2016 TRIPS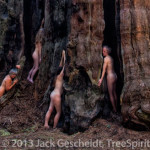 2016 Giant Sequoias Experiences
Sierra Nevada Mountains, CA.
Sept. 8-11, 2016 (Thursday 6pm to Sunday 6pm)
Join TreeSpirit founder Jack Gescheidt and a small group of fellow tree and nature lovers for 3 unforgettable days & nights among giant sequoias of California. Included in the trip fee is a 20×30″ canvas print of a new TreeSpirit photograph made on the trip, starring YOU.
LEARN MORE: Giant Sequoias Experience PAGE.

2017 Giant Sequoias Experiences: June 22-25 & Sept. 7-10, 2017
---
2016 PHOTO EVENTS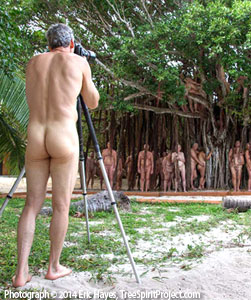 Jack Gescheidt GROUP TreeSpirit PHOTO
FOR: The Western Naturists Gathering
AT: Lupin Lodge Naturist Resort
20600 Aldercroft Heights Rd., Los Gatos, CA.
4pm Saturday, July 30, 2016


Popular SF Bay Area naturist resort Lupin Lodge is hosting The Naturist Society's 2016 Western Naturists Gathering from Thursday, July 28th through Sunday, July 31st.
Jack and Lupin invite everyone on site at 4pm on Saturday, July 30th to make art with this wooded retreat's beautiful trees — in another large group TreeSpirit photograph.  All are welcome.  MORE INFO.
---
2016 TALKS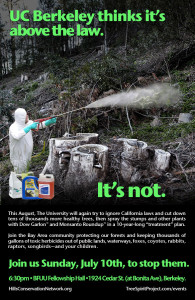 "Save the Trees" community pep rally for 450,000 SF Bay Area trees.  Gather with hundreds of citizens who know our forests are precious resources which shouldn't be cut down and sprayed with thousands of gallons of poisonous Monsanto Roundup™ and Dow Garlon.™  Carcinogenic herbicides are not "tools in our toolbox," as, tragically, The Bay Area Chapter of The Sierra Club now considers them.
Come to learn more and get involved if you want to continue enjoying the 120-year-old forests in the East Bay hills, and preserve them for your children, and their children (and wildlife, too!).
Sunday, July 10, 2016 @ 6:30-9pm
BFUU Fellowship Hall, Berkeley, CA
1924 Cedar St. (@ Bonita Ave.)
Berkeley, CA  94709
---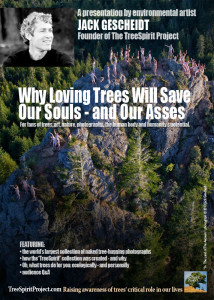 Jack Gescheidt PRESENTATION
"Why Loving Trees Will Save Our Souls — and Our Asses"

San Francisco, CA Green Festival
November 11, 12, 13, 2016
Day/Time TBD



WHERE: Pier 35 (Fisherman's Wharf), SF, CA.
3-day expo: Fri, Sat., Sun., Nov. 11, 12, 13.
HOURS: Fri 12-6pm, Sat 10am-6pm, Sun 10am-5pm

America's largest, longest-running sustainability and green living expos are Green Festivals: vibrant, dynamic community marketplaces where companies and orgs showcase green products & services, where people learn how to live healthier, more environmentally sustainable lives.

INFO: http://www.greenfestivals.org/san-francisco-2016-nov-11-13
---
TreeSpirit email is about once every 3 weeks. The list is never shared nor sold. Not ever.
• EXHIBITIONS: HERE
• Suggest a specific tree or forest to protect: HERE.
---
• Have a great idea for a TreeSpirit event? Use the form below:
Describe your event idea for Jack.
---

---
PAST EVENTS
• Jack Gescheidt TreeSpirit PRESENTATION @ NYC, NY, Green Festival (Jacob Javits Convention Center)
4:30pm, Sat., April 16, 2016
• Jack Gescheidt TreeSpirit PRESENTATION @ Portland, OR, Green Festival (Oregon Convention Center)
2:30pm, Sat., Dec. 12, 2015
• Jack Gescheidt TreeSpirit PRESENTATION @ San Francisco, CA, Green Festival, 2:30pm, Sat., Nov. 14, 2015

• 450,000-TREE DEFORESTATION Expert Panel Presentation with AUDIENCE Q&A
7-10pm Thursday, November 19, 2015
Oakland Center for Spiritual Living, 5000 Clarewood Drive, Oakland, CA 94618
A panel of experts with decades of experience and in-depth knowledge of the plan to cut down 450,000 trees in the Oakland and Berekeley hills, then use thousands of gallons of herbicides (Dow Garlon™ & Monsanto Roundup™) on the stumps for years following, will detail its history, evolution and details, and then answer your questions.  READ CLEARCUT PLAN DETAILS.
1-HOUR AUDIENCE Q&A – Ample time will be provided to get your questions answered about this BIG PLAN most citizens know so little about.
PANELISTS include:
1) Dave Maloney, former Chief of Fire Prevention at Oakland Army Base;
2) Dan Grassetti, founder of The Hills Conservation Network;
3) Peter Gray Scott, 1991 Oakland hills fire survivor who instigated The Grand Jury investigation of that fire
MODERATOR: Jack Gescheidt, TreeSpirit Project founder

WHEN & WHERE: 7-10pm, Thurs. Nov. 19, 2015 @ The Oakland Center for Spiritual Living, 5000 Clarewood Drive, Oakland, CA 94618.
The Center is available for community service events with a range of views and opinions. Not all views and opinions expressed at events reflect the Center's.
DOWLOAD & PRINT EVENT FLYER: CLICK HERE
• PRESENTATION by Jack Gescheidt:
"Are Eucalyptus Trees Going To Kill Us All!?
So shouldn't we kill them all first?"
Open Secret Community Center,
San Rafael, CA
7:30-9:30PM, Sat., Aug. 15, 2015
Join TreeSpirit founder Jack Gescheidt for a timely presentation and audience discussion of issues involved in the controversial plan to cut down 450,000 trees in the SF Bay Area.
TOPICS INCLUDE:
• "native" vs. "non-native species;"
• "invasives," and "invasions;"
• "flammable eucalyptus trees;"
• "Invasion Biology" and;
• why all these phrases necessitate quotation marks — learn why their meanings are anything but clear;
• arguments for and against the heated 450,000-tree "hazardous trees removal" and "vegetation management" plan in the East Bay hills
• the infamous 1991 Oakland-Berkeley hills fire — its causes and how to prevent its recurrence
• audience Q&A; your involvement is encouraged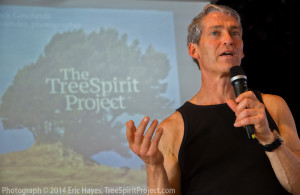 Open Secret Community Center & Bookstore
#923 C St. (betw. 3rd & 4th St., 3 blocks from the Rafael Film Center)
San Rafael, CA 94941
$10 Advance Tickets: call Open Secret w. credit card: 415.457.4191
$15 at the door
• Jack Gescheidt TreeSpirit PRESENTATION @ "RAW Artists" show, San Francisco, CA
Thursday, May 8, 2014
• Jack Gescheidt TreeSpirit PRESENTATION aboard The Paul Gauguin cruise ship to Fijian Islands in the South Pacific.
May 31-to-June 14, 2014