2015
TreeSpirit COMMUNITY RALLY & PHOTO to protect 450,000 trees – SF Bay Area
FREE, FUN ADVENTURE MAKING ART IN THE FOREST

7AM Saturday, July 18, 2015
EXACT LOCATION in East Bay hills TO BE ANNOUNCED.

Join an historic community gathering to attract public & media attention to the cause of preserving 1/2-million healthy, mature East Bay trees in the Oakland and Berkeley hills from the largest Bay Area clearcut in 100 years.
Together we will peacefully, powerfully gather, share the news that the deforestation plan will INCREASE fire danger in the hills, and then create a dramatic fine art photograph with TreeSpirit founder Jack Gescheidt.
You may support the event and its goals but choose not to participate in the photograph.
For all SF Bay Area tree, forest, wildlife and nature fans who know the clearcut plan is a fear-based species eradication plan, not a fact-based fire danger mitigation plan.  (For one, the chopped down trees will be left on the ground, not removed from the hillsides, and there is no replanting.)  READ MORE.
Join the confidential email guest list to be emailed event details:

ALL BODY TYPES ARE WELCOMED AND APPRECIATED FOR THE PHOTOGRAPH: all ages, sizes, colors, shapes, genders, orientations and physical abilities.  No tree climbing ability necessary.  Naked, vulnerably, and peacefully, like the trees we act to protect, we will make a photograph dramatizing our need for these over 450,000 trees facing destruction.
NOTE:  Due to the anticipated large turnout, the majority of participants will be anonymous in the final large-scale photograph.  If you're new to TreeSpirit, see dozens of previous TreeSpirit images in the Gallery.
LEARN MORE ABOUT THE ISSUES (CLICK HERE).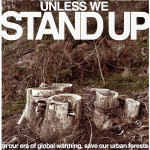 DOWNLOAD & DISTRIBUTE FLYERS:
• 8.5 x 11″ flyer (CLICK HERE)
• (2) 5 x 8″ flyers on 8.5 x 11″ (CLICK HERE)
---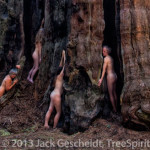 Giant Sequoias Experience, Sierra Nevada Mountains, CA.
September 10-13, 2015
Join TreeSpirit founder Jack Gescheidt and a small group of fellow tree and nature lovers for 3 unforgettable days & nights among the giant sequoias of California. Included in the trip fee is a 20×30″ canvas print of one of the TreeSpirit photographs starring YOU. The weekend after Labor Day,  Thursday-to-Sunday, Sept 10-13, 2015. LEARN MORE.
2015 Experiences: September 10-13, 2015
2016 Experiences: May 19-22 & Sept. 8-11, 2016

---
June 3-4, 2015, Oakland City Hall, 6:30pm-1:30am (Wed.-to-Thurs.)

A crowd of urban forest defenders spoke well after midnight before the Oakland City Council to inform its members, and a public kept in the dark, about huge proposed clearcuts, masquerading as fire danger mitigation that would chop down tens of thousands of trees — and make the Oakland (and Berkeley) hills MORE prone to dangerous wildfires.
Unfortunately, the council ignored all the researched data presented by over 40 citizens, and approved receiving $4 million dollars of FEMA funds, and $650,000 of Oakland money, to clearcut thousands of pine, acacia and eucalyptus trees falsely labeled more flammable than "native" trees. ("Native" bay trees are equally flammable as eucalyptus, but aren't targeted for extermination by "native" plant extremists.)
LEARN THE FACTS BEHIND THE CONTROVERSY.

WHERE & WHEN: Oakland City Hall, Oakland, CA, 5:30pm – pushed to 1am Wed!
---
• EXHIBITIONS: CLICK HERE
• Suggest a specific tree or forest to protect: HERE.
The TreeSpirit email list averages once/month and is never shared or sold, not ever.
---
• Have a great idea for a TreeSpirit event? Use the form below:
Describe your event idea for Jack.
---

♦♦