Thank you for your interest in a TreeSpirit Fine Art Print.
Fine Art prints are custom-made, limited edition, on archival, 100% cotton (tree-free) paper.  They are much higher resolution than posters.  Prints 16×20″ and larger are made in limited editions of 25 or fewer.
Fine art print sales directly support The TreeSpirit Project in creating future photographs and sharing the message that we can live in greater harmony with the natural world and simultaneously enrich our own lives.  Read more about TreeSpirit's mission.
Limited Editions

TreeSpirit prints sized 16×20″, 20×24″, 24×30″ are made in editions of twenty-five.
Size 30×40″ prints are in editions of twenty.  40×50″ prints are in editions of twelve.
These limited edition prints come with a Certificate of Authenticity to verify it is from Jack's studio.
11×14″ prints are open editions.
Every print is signed by the photographer, Jack Gescheidt.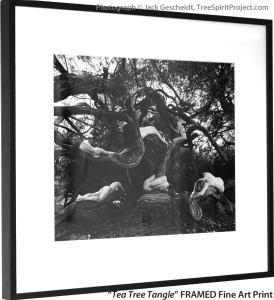 Print Sizes and Prices
Print Size        Unframed          Framed
11 x 14″                $350               $750
16 x 20″                $950            $1,650
20 x 24″              $1250            $1,850
24 x 30″             $1,650            $2,550
30 x 40″             $2,750            $3,850
40 x 50″             $3,750            $4,950
NOTE: Print prices increase as editions sell out, and therefore subject to change without notice. 
Jack reserves the right to change print prices at any time, and is not responsible for typographical errors.

The Photographic Process
All TreeSpirit photographs are made outdoors with existing light.  The earliest TreeSpirit photographs were made on film, which is then scanned at extremely high resolution to produce a digital file.  Later and today's photographs were/are made with digital cameras.  All images are printed digitally to achieve the highest possible resolution results.
Frames and Mattes
Mattes are 8-ply acid-free 100% cotton fiber.  Standard frames, unless otherwise specified or special-ordered, are custom cut, museum-grade, sustainably-harvested hardwood, 2" deep.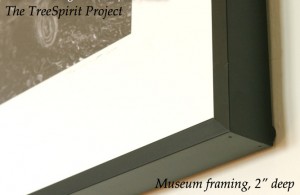 Shipping
• Domestic (United States) shipping is by Federal Express.  International carrier depends upon destination.
• NOTE: U.S. and international shipping fees have increased dramatically and often in recent months (by FedEx, UPS, and the USPS).  You will be notified by email, prior to processing your order, if your prints' shipping charges are significantly greater than this website's calculated charges.  In such instances, TreeSpirit shipping fees will be only to reimburse shipping costs.
This website features Paypal's secure, safe, and reliable payment system.  Credit cards are accepted.  You may also pay by personal check, and your order will begin processing after funds have cleared.
Your on-line order will receive an email confirmation.
To preview tax and shipping charges, you may click through the system as if paying by credit card, and simply cancel out of the system before providing your credit card information.
Questions? Email Jack