TreeSpirit Presentations are informative, lively, and attract a diverse crowd of art and photography fans, environmentalists, nature lovers and curiosity seekers.
2020 PRESENTATIONS:
VIDEO: 4 MIN. EXCERPT from Jack Gescheidt's presentation:
---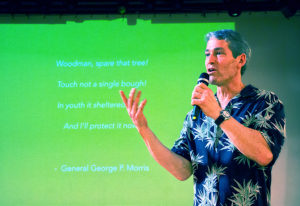 Jack Gescheidt TreeSpirit PRESENTATION
"Why Loving Trees Will Save Our Souls — And Our Asses"
Sierra Club, Berkeley, CA
Friday, October 9, 2020
7:30-9PM

WHERE: Sierra Club Bay Area Chapter office, 2530 San Pablo Ave., Berkeley, CA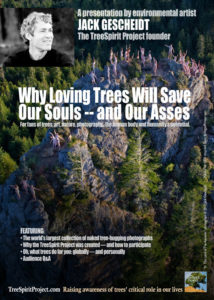 A lively, wide-ranging talk. Topics include how environmental concerns and responsibility lead directly to a reckoning of your food and consumer choices. How Jack's tree and forest advocacy led to an evolution in his thinking — and behavior and environmental action. An audience-engaging discussion of interest to anyone daring enough to be open-minded and learn more about how lifestyle and habituated choices have a huge impact on the environment, our community, on everything.

As more and more people are learning now, our most potent, immediate method to personally mitigate the climate crisis — without waiting for fossil fuel companies to correct their ecologically disastrous habits — is to shift to a plant-based diet. Our diet has a direct impact on deforestation, and we will not survive without the world's forests. LEARN MORE.
Includes TreeSpirit VIDEOS and Jack's favorite thing, Audience Q&A.
---
Exhibitions of TreeSpirit photographs bring beauty and an environmental message to your community.  Be it in a gallery, museum, at a conference, retreat center, festival, retail space, restaurant, yoga studio, art garden, you name it.  Trees deserve to be celebrated, appreciated and protected everywhere.  Never doubt that tree lovers are everywhere!
VIDEO: TreeSpirit opening night at The John Wilmer Studio Gallery, Sausalito, CA:
---
HAVE JACK SPEAK TO YOUR GROUP  Email an inquiry to TreeSpirit Project founder Jack Gescheidt to present to your group: contact Jack Gescheidt.
---
PAST EXHIBITIONS
include:
• San Geronimo Valley Spring Art Show, San Geronimo, CA, May 2015
• San Geronimo Valley Spring Art Show, San Geronimo, CA, May 2014
•
The Bolinas Museum
, October-November 2009, Bolinas, CA
•
Shaw Gallery
, August–September 2007, Northeast Harbor, Maine
•
NoCi Organic Gelateria
, January 2008, Mill Valley, CA
• Frantoio, March 2006, Mill Valley, CA
•
Sausalito Art Festival
, September 2005, Sausalito, CA
• One Taste Gallery, June-July, 2005, San Francisco, CA
•
John Wilmer Studio Gallery
, March 2005, Sausalito, CA
• New Living Expo, April 2004, San Francisco, CA
• Lydia's Lovin' Foods, March 2004, Fairfax, CA