Founder Jack Gescheidt on how it all began.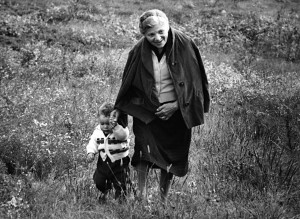 I grew up in New York City and upstate New York — two radically different environments — but always loved being in the country.  Some of my earliest, strongest childhood memories are adventures out exploring woods, streams, lakes, fields; running around, climbing trees, feeling alive and joyous and free in nature.
Decades later, in 2003, as an adult walking in the woods of Marin County, CA, I happened upon a massive, old and sinewy coast live oak.  At least 250 years old, older than America, I was mesmerized by her massive limbs filling the sky in all directions.  I was moved to tears by this giant living creature's powerful presence.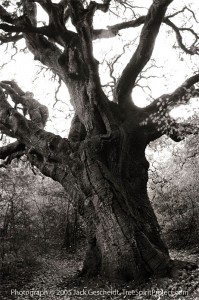 This ancient tree, which I've since taken to calling "Grandmother," was calling to me—or I was yearning to connect with her, or both.  I felt, beyond rational explanation, how alive and beautiful she was, and for so long…and that somehow, in these feelings, I was connected to her.  Grandmother inspired me to bring people to her, to photograph them playing in her huge branches, dwarfed by them as if they were children again.
And so began The TreeSpirit Project. TreeSpirit has taken on a life of its own since the first photographs, which I showed to other people…who then  wanted to be in a photograph like this too.  Today, thousands of participants and, thanks to media attention and the internet, hundreds of thousands of admirers from around the world enjoy and are inspired by the photographs.  I am thrilled to learn firsthand that so many people alive today not only understand the importance of trees — but who just plain love them.
All the people in the photographs are volunteers. Most viewed the collection of TreeSpirit images on-line, or in an exhibition and instantly "got it."  Many have felt called to do something unusual and, for many, daring — namely, participate in a photograph. (Each participant receives a copy of the photograph he or she helps create.)
Although I started making TreeSpirit photographs because I simply loved doing so, in time I saw the opportunity to use them to raise awareness for trees—and environmental issues—everywhere.  "Last Stand," a photograph made in Berkeley, CA at the invitation of tree sitters striving to save a grove of precious native oaks from a gymnasium expansion.  (A year later, I made another photograph, "Law of Attraction" with those brave demonstrators.)   This experience taught me  I could combine my life-long environmental concerns with my photography to create activist artwork.
Ultimately, I hope to inspire others to act in their own unique ways on behalf of trees with which are all interdependent.  (Read TreeSpirit's mission.)
Harold Whitman puts this beautifully:
Don't ask yourself what the world needs.
Ask yourself what makes you come alive.
And then go do it.
Because what the world needs is people who have come alive.
– Jack Gescheidt, Founder, The TreeSpirit Project