Every so often in your life you witness something that affects you totally differently than what you were prepared to experience.

That was my situation when I attended the Forest Protection Committee meeting at the Loma Prieta Chapter office two months ago in Palo Alto [CA]. The guest speaker was Jack Gescheidt, found of the TreeSpirit Project, and a photographer who tastefully photographs beautiful trees with people posing "in the buff while passionately embarcing a tree. Initially I thought to myself, I am not sure this kind of "tree art" is for me. However, I found I was wrong. I was fully inspired by the end of his presentation.
– Excerpt from "Naked in the Woods" by Suzanne Remien
READ FULL ARTICLE
Founder/photographer Jack Gescheidt's presentations are a unique, entertaining mix of environmental art photographs, videos, demonstrations — and audience-engaging ideas, a mix of information, story, science, humor, and passion for the natural world.  Audience interaction, including Q&A, is encouraged.  (Audience members s are not required to hug trees, or shed their clothing.)
Topics cover a wide range of material, tailored to each audience, and can include: art, photography, activism, Invasion Biology, (so-called "native" and "non-native" species), non-violence, climate change, deforestation, animal agriculture, nudity, body awareness issues, nature, free speech, and environmentalism in general.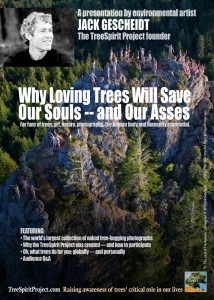 Suitable and easily tailored for groups of all kinds and all ages, from grade school to universities, companies, clubs, seminars, senior centers and conventions/clubs/groups of:
• tree and nature lovers;
• environmentalists;
• art and photography fans;
• body awareness advocates and naturists;
• college students & faculty;
• the average human being who feels an affinity or affection for the natural world
Photo (indoors) courtesy Ray Madrigal, https://startingpointphotography.shutterfly.com
Jack's talks are lively, informal, fun AND INTERACTIVE.   He encourages audience involvement, with questions and spur-of-the-moment polls.  He's happy to answer all questions from, "Why do trees and forests matter so much to you (and humanity)?," to "How do you get all these naked people to pose for you?"
Jack tailors each presentation to your group, for audiences grade school on up, choosing from the myriad issues surrounding the creation of TreeSpirit images and reflecting The TreeSpirit Project mission.
• EMAIL JACK FOR for details, scheduling, fees and availability.
• SEE EVENTS PAGE for upcoming preseentations.

---
WHAT PEOPLE SAY ABOUT WHAT JACK SAYS:
Hi Jack,  Great presentation and talk last night.  You definitely opened my mind about so-called invasive species and I love your photographs.  (I'm also interested in next year's trip to the Giant Sequoias.)  I hope our committee can work with you somehow to help preserve trees.

Hearing you talk let me know that others intuitively feel what I feel when I am among the trees, even just in my little backyard here in Belmont [CA].  These aren't inanimate objects.  They are living, breathing extensions of ourselves (or should I say we are extensions of them?).  All the best.  – Jim Feichtl
---
SEE JACK TALK:
Outside, with a Chinese television station


Jack talks trees — why they are so important in our lives and for our well-being — with SinoVision, one of the largest, most influential Chinese-language TV networks and Chinese language websites in North America.
Director/Videographer, Tian He.  July 2017
---
Inside, at a forestry conference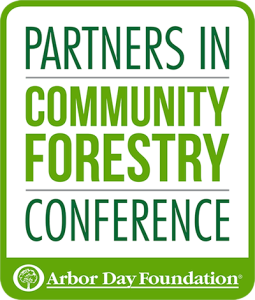 Jack talks trees, deforestation, climate change and the crucial role trees play in the survival of the human species along with thousands of others species — and the most effective, direct action you can take, today, to mitigate the climate crisis — for the opening of the Arbor Day Foundation's annual forestry conference.  
November 2018
---
In the Berkeley, CA Memorial Oak Grove, on NBC-11 TV:

• SEE MORE TV & VIDEO CLIPS of Jack.