The magnificent Angel Oak is saved from development by years of hard work by community activists!
MARCH 15, 2014 NEWS: http://www.postandcourier.com
A total of 35 acres of forest that surrounds and protects the Angel Oak has been preserved by a South Carolina community that lobbied hard — for years — to prevent clear cutting woods within yards of this one-of-kind hundreds-years-old tree.
One passionate tree lover, young Samantha Siegal, first championed the cause, attracted a small team of passionate advocates, and eventually drew thousands of citizens to her cause (thwarting a condominium complex no one but the developer wanted): http://www.heraldonline.com
Morals of this True Tree Tale:
1) one person — YOU — can make a difference since what you do with great heart affects & inspires others;
2) a community joined together can achieve great things — like saving precious wild places and ancient trees for future generations to enjoy.
A Charleston arts & culture newspaper recognizes this incredible environmental and community achievement: http://www.charlestoncitypaper.com
---
PURCHASE "Angels" Fine Art Print (photo above.)

---
The famous Angel Oak, a giant, beautiful, centuries-old southern live oak tree of Johns Island, SC, (just outside Charleston) was, in 2010, threatened by a large condominiums project that would have clear cut 40 acres of surrounding forest that shelters and protects this one-of-a-kind centuries-old southern live oak.
Live5News.com | Charleston, SC | News, Weather, Sports

In an inspiring success story, community members actively lobbied — for years — to save The Angel Oak's surrounding forest, its water supply, and its ecosytem — and thus the tree itself.  It's been a long, effort-filled endeavor, started by two women, Samantha Siegal and Lorna Hattler, who loved visiting The Angel Oak Tree and were determined to preserve the tree's habitat, the forest and park around her.  Her passion ignited friends, and then a community.  A website, SaveTheAngelOak.org, was created and sent ripples out far beyond Charleston.  (Reaching California and The TreeSpirit Project in 2011, which traveled to Johns Island to make the photograph, "Angels," (below) with local and not-so-local tree lovers and environmental activists.
Now the Angel Oak and its forest are protected in perpetuity — a success that will benefit future generations of Angel Oak and forest fans, and thousands of tree and nature lovers who each year come from across America to visit this gigantic, ancient, living creature, growing here long before the U.S. Constitution was written.
The Charleston's community effort is inspiring others to become involved in their own communities, knowing they can preserve what's valuable to them, including their precious wild places.
• View/purchase "Angels" Fine Art Print (photo at top of page)
• CLICK HERE to see Media Coverage of  the making of "Angels"
• REUTERS Sept. 30, 2013 NEWS STORY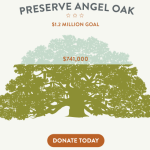 • LEARN MORE & DONATE HERE via The Lowcountry Open Land Trust: http://www.lolt.org/community-initiatives/angel-oak-preserve.html
---