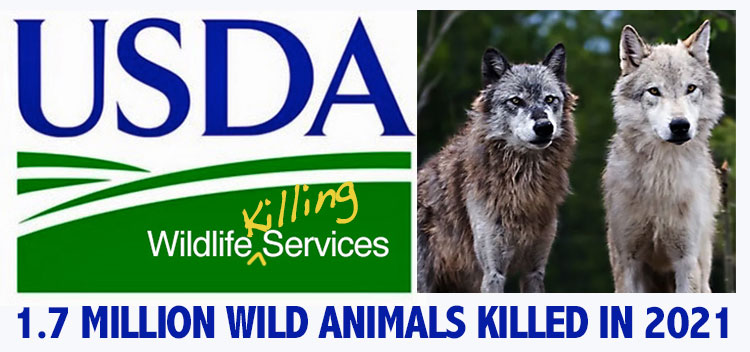 Q. What does the USDA's Wildlife Services do?
A. Kill literally millions of wild animals.
Using YOUR tax dollars.
You've likely never heard of Wildlife Services, a secretive division of the USDA (U.S. Department of Agriculture).  Its Orwellian name belies what it does: the "service" Wildlife Services provides wildlife is killing them. Over a million wild animals, every year.
• In 2021, Wildlife Service killed over 1.7 million animals.
• In 2020, Wildlife Service killed over 1.5 million animals. Including 62,537 coyotes, 25,400 beavers, 2,527 foxes, 703 bobcats, 434 black bears, 381 gray wolves, 276 mt. lions and 6 endangered grizzly bears.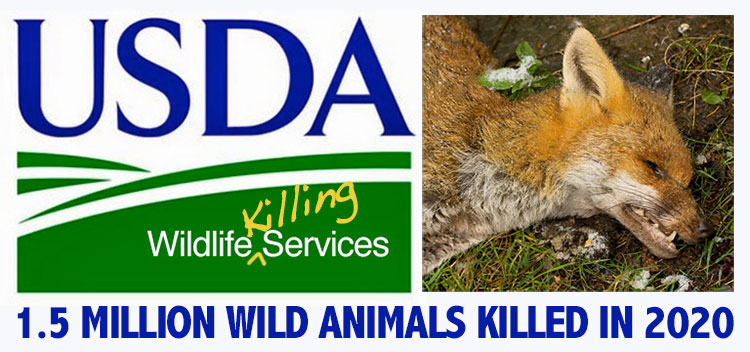 • In 2019, Wildlife Services killed over 2.2 million animals, 1.1 million of them native wild animals. READ Center for Biological Diversity Media Release.
• In 2018, Wildlife Services killed over 2.6 million animals.
• In 2017, Wildlife Services killed over 2.3 million animals.
• In 2014, Wildlife Services killed over 2.7 million animals.
Slaughter is "service." Killing is "humane."  War is Peace. And taxpayer funded.
This multimillion-dollar federal wildlife-killing program targets bears, wolves, coyotes (LOTS of coyotes), mt. lions, foxes, bobcats, river otters, birds and other wild animals that do what all wild animals do: eat other animals in the outdoors.
But if their prey is a pig, a chicken or one of the tens of thousands of privately owned cattle-for-profit allowed to graze on public land, then the wild predator can be targeted for death.
Even if the wild animal is living and roaming and hunting on land belonging to you, the U.S. public.  About 1/2 of America's public land — millions of acres — is opened to cattle grazing, at below market rates, subsidized by U.S. taxpayers.
The wealthy — and therefore politically powerful agriculture industry ranchers — call up Wildlife Services and have them do their dirty, secretive work, also paid for by an uninformed public.
BTW, if all this turns your stomach, you can take effective, immediate action: eat less meat, especially less red meat and dairy.  READ MORE.)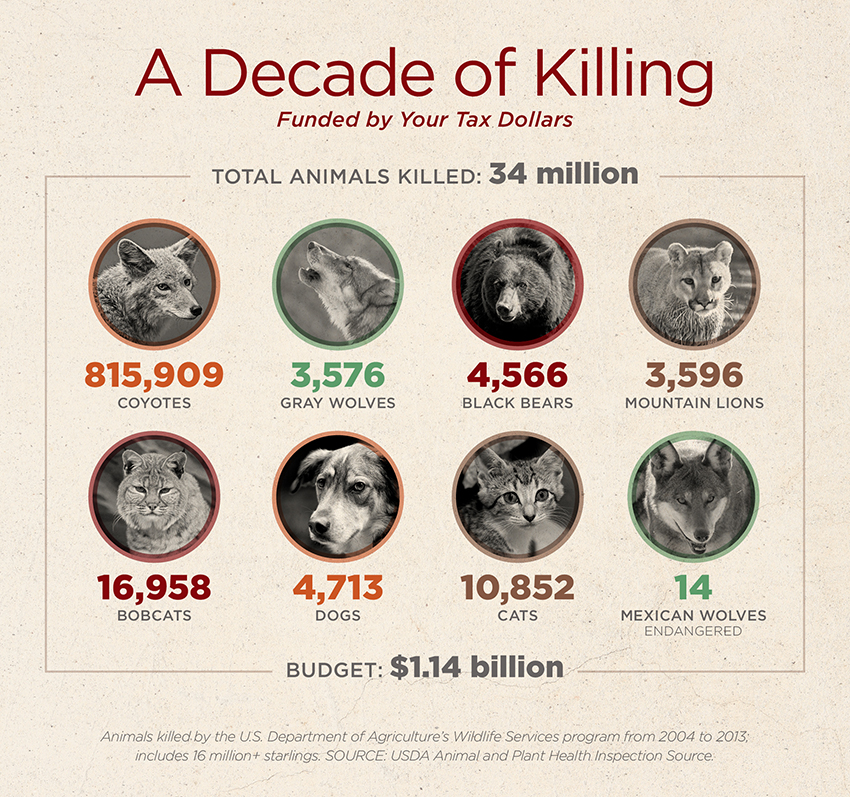 ---
VIDEO: EXPOSED: USDA's Secret War on Wildlife.
"Exposed" reveals the government's hidden war on wildlife at taxpayer's expense, killing literally millions of wild animals every year, for almost a century. Also maiming, poisoning, and brutalizing countless pets, and even seriously injuring humans.  © 2013 by Predator Defense
The award-winning documentary film Jane Goodall wants millions to see. Three former federal agents and a Congressman blow the whistle on Wildlife Services — a barbaric, wasteful and Orwellian-named agency of the USDA most Americans have never heard of.
LEARN MORE and support the efforts of Predator Defense to end this American war on wildlife: http://www.predatordefense.org/exposed
---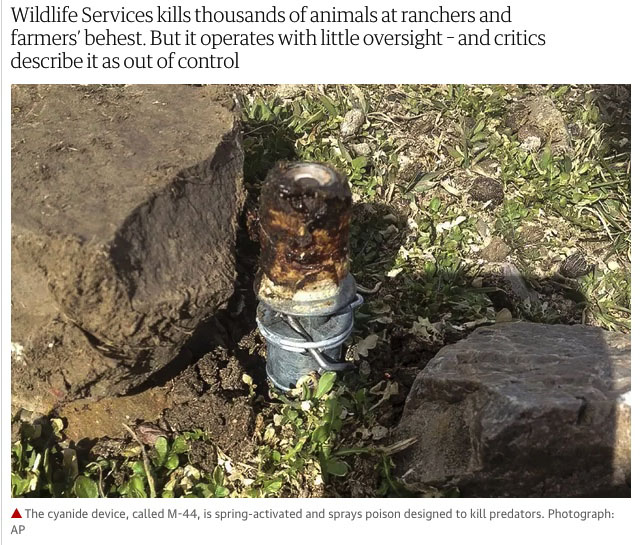 The secretive government agency places 'cyanide bombs' across the U.S.

Wildlife Services kills thousands of animals at ranchers and farmers' behest. But operates with little oversight.  Critics describe it as out of control:
EXCERPTS:
While playing in the woods behind the family home, Canyon Mansfield, 14 years old, and Kasey, his Labrador Retriever, had stumbled upon a strange device that sprayed them both in the face with a dose of of sodium cyanide. The boy managed to quickly clean the poison out of his eyes, but the dog collapsed and started convulsing…

"The United States government put a cyanide bomb 350ft from my house, and killed my dog and poisoned my child," said Theresa Mansfield, Canyon's mother.

If you haven't heard of the US agency that placed the bomb, you're not alone.

Sometimes its agents shoot wolves or coyotes from helicopters.  Sometimes they employ leg traps and snares.  And sometimes they place poison devices on public and private land.  M-44s, also known as "cyanide bombs", are baited and spring-loaded tubes that spray an orange plume of cyanide powder when triggered.
READ Guardian article: https://www.theguardian.com/environment/2020/jun/26/cyanide-bombs-wildfire-services-idaho?CMP=Share_iOSApp_Other
---
VIDEO: Cyanide 'Bombs' by Wildlife Services
National Press Club 2018 Winner – Federal wildlife agents set poison traps which indiscriminately kill thousands of "predators" like coyotes.  This is the fatal story of a boy & his dog — and all the other collateral damage this program brings to the West.
---
Wildlife Services' killing programs have countless critics, including these orgs: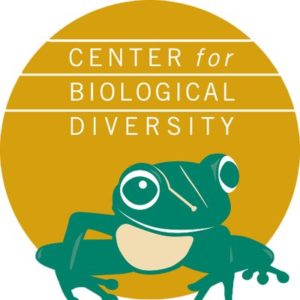 THE CENTER FOR BIOLOGICAL DIVERSITY: "The Department of Agriculture (USDA) needs to get out of the wildlife-slaughter business," said Collette Adkins, biologist & attorney at the Center for Biological Diversity. "There's just no scientific basis for continuing to shoot, poison and strangle well over a million animals every year. Even endangered species and pets are killed by mistake, collateral damage." 
2017 kills: 357 gray wolves; 69,041 adult coyotes & an unknown number of coyote pups in 393 destroyed dens; 552 black bears; 319 mountain lions; 1,001 bobcats; 675 river otters, incl. 587 killed "unintentionally"; 3,827 foxes, plus an unknown # of fox pups in 128 dens; 23,646 beavers, 15,933 prairie dogs & an unknown # killed in over 38,452 burrows destroyed or fumigated.
According to the new data, the wildlife-killing program [ALSO] unintentionally killed nearly 3,000 animals last year, including wolves, badgers, bears, bobcats, foxes, muskrats, otters, porcupines, raccoons and turtles. Its killing of non-target birds included chickadees, bluebirds, cardinals, ducks, eagles, grouse, hawks, herons, swans and owls. Dozens of domestic animals, including pets and livestock, were also killed. Such data reveals the indiscriminate nature of painful leghold traps, strangulation snares, poisons and other methods used by federal agents.
Agency insider whistleblowers say the figures underestimate the actual number of animals killed because Wildlife Services kills many more animals than it reports.

READ MORE: Center for Biological Diversity: TARGETING WILDLIFE SERVICES
https://www.biologicaldiversity.org/campaigns/wildlife_services/index.html
READ Center for Biological Diversity PRESS RELEASE on Wildlife Services: https://www.biologicaldiversity.org/news/press_releases/2018/wildlife-services-04-23-2018.php
---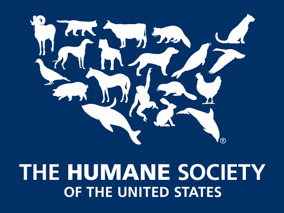 THE AMERICAN HUMANE SOCIETY: Most Americans do not even know Wildlife Services exists, much less that taxpayer dollars are used to support its lethal programs. This federal program paradoxically conducts cutting-edge research into better and more humane techniques in wildlife control while embracing outdated and inhumane approaches in its field operations. Wildlife Services is wholly out of touch with modern conservation values and lacks the transparency Americans demand of their government agencies. It has failed to keep pace with the American public's demand that wild animals, even when regarded as pests, should be dealt with humanely and that the welfare of wild animals be weighed as a first-order concern in any control programs.
The stated mission of Wildlife Services is to provide "Federal leadership and expertise to resolve wildlife conflicts to allow people and wildlife to coexist" (USDA Wildlife Services 2009). Yet for more than a century this federal program has specialized in only one type of wildlife conflict resolution—killing.  Many millions of animals from dozens of species, including endangered and threatened, target and non-target species, have fallen to the poisons, traps, and other lethal instruments this program employs.
Its operations damage entire ecosystems by targeting keystone and umbrella species such as wolves, prairie dogs, and beavers and unbalance wildlife community structure by decimating entire populations of others, such as coyotes.
---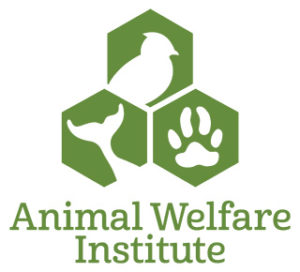 THE ANIMAL WELFARE INSTITUTE writes:
Wildlife Services: A Killing Program Out of Control
A little-known US Department of Agriculture (USDA) program is using brutal methods and taxpayer dollars to indiscriminately kill wildlife across the United States. This program, ironically entitled Wildlife Services (WS), kills approximately 5 million animals each year in the name of "managing problems caused by wildlife." [A larger estimate based on reports beyond what WS itself reports. – Ed.] It operates with notoriously little transparency, refusing the public access to records documenting many of its killing activities. The program engages in myriad cruel practices, including steel-jaw leg hold trapping, poisoning, and aerial shooting—at a substantial cost to taxpayers.
KILLS INDISCRIMINATELY  WS has killed more than 50,000 non-target animals representing over 150 species since 2000, including endangered species and family pets.1 In addition, the intentional killing of targeted species often is not limited to those animals who have actually depredated livestock or game.
WASTES TAX DOLLARS   Most of the killings carried out by Wildlife Services are not only brutal and unnecessary—but expensive. The program's annual budget exceeds $100 million, about half of which is drawn from federal funds. More disturbing is the fact that a portion of WS funding comes from private sources with more leverage than taxpayers in determining the program's priorities, methods, and actions.
RELIES ON INEFFECTIVE METHODS  Coyotes respond to lethal control by compensatory reproduction: kills lead to increased breeding, litter size, and pup survival.4 Livestock predation may actually increase because there are more coyote pups to feed, thus perpetuating a brutal, endless cycle of government spending on self-perpetuating "damage control" efforts without any benefit.
THREATENS PUBLIC SAFETY  WS employs dangerous, nonselective poisons that can be lethal to humans. Sodium cyanide devices known as M-44s have poisoned nontarget wildlife, family dogs, and even humans,5 while Compound 1080—a poison that causes prolonged suffering and death, and to which there is no antidote—is a known homeland security risk.
LACKS ACCOUNTABILITY  WS is widely condemned for lacking transparency and accountability in its practices and protocols. For example, investigations7 have revealed a disturbing trend of "shoot, shovel and shut up" for non-target animals—including threatened and endangered species—who are killed and not reported. In addition, because WS fails to verify all livestock losses and allows ranchers to self-report such losses, statistics produced by WS regarding livestock depredation are dubious at best and raise serious questions about the legitimacy of the program's predator control activities.
The myriad problems plaguing WS underscore the need for substantial changes to program culture and procedure. The program's ineffective, inhumane, and irresponsible practices threaten human health, animal welfare, and the environment. 
Ask your legislators to stop the use of taxpayer dollars to indiscriminately and cruelly kill wildlife, and demand transparency and accountability from WS.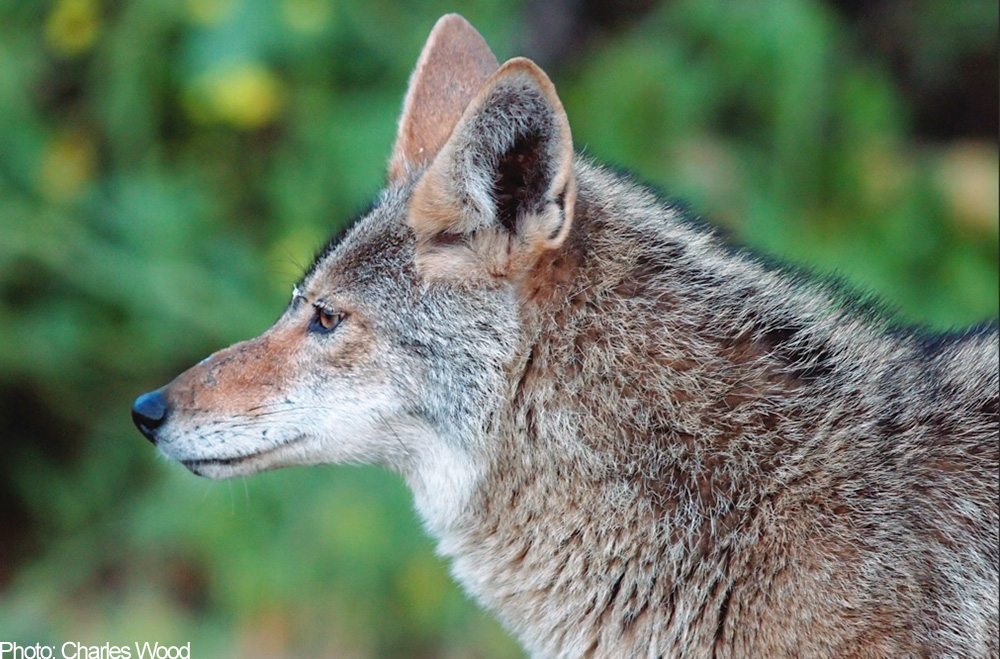 Ecological Effects of Ranching: A Six-Point Critique
BioScience, American Institute of Biological Science
August 1, 2003
EXCERPT: Today, predators remain detested and feared on the range (Kellert 1985). The commissioners of Fremont County, Wyoming, e.g., fearing the spread of animals reintroduced to Yellowstone National Park, passed a unanimous resolution prohibiting the presence, introduction, or reintroduction of grizzly bears, wolves, or other "unacceptable species" within the county (Casper Star-Tribune, 3.12.02, e.g.). Nor are predators the only animals perceived as threats to ranching. Black-tailed prairie dogs, occupying 2-3% of their former range, are considered worthy of threatened status by the US Fish and Wildlife Service (USFWS 2000), yet continue to be poisoned and shot by ranchers and by government officials working on the ranchers' behalf.
READ BioScience ARTICLE: https://academic.oup.com/bioscience/article/53/8/759/269635
---
Project Coyote VIDEO: A Message From Peter Coyote
Peter Coyote is a proud advisory board member of Project Coyote. Discover their mission, and how you can help protect the environment.
---