Powerful.  Adventurous.  Intimate. A one-of-a-kind trip for tree and nature lovers.  Hosted by TreeSpirit founder, Jack Gescheidt.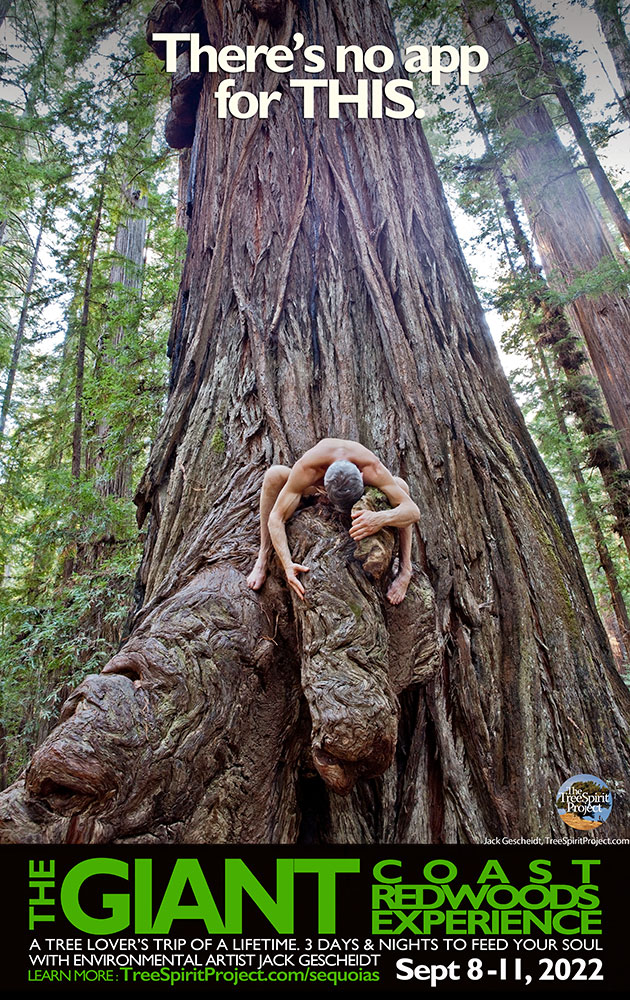 2022 TRIP: Sept. 8-11
(Thurs. 6pm thru Sun. 6pm)
Have you felt a powerful, inexplicable attraction to trees ever since you were a child?  Would you love to deepen and savor this connection in a small, supportive group of people who feel the same way?  You can do this among these gigantic, 2,000+-year-old trees along the coast of northern California.
THE GIANT COAST REDWOODS EXPERIENCE is 3 full, unforgettable days and evenings with Jack, his support team, and a small gathering of fellow tree lovers.  We'll all bathe in the powerful, soothing, healing energy of these colossal, inspirational trees, the Giant Coast Redwoods.
Giant redwoods (Sequoia sempervirens, Latin for "ever alive")  are the tallest trees on Earth.  (Giant Sequoias, Sequoiadendron giganteum, have a larger mass, but don't grow as tall.)
Tree and nature fans travel from around the world to be among these ancient trees. Ancient redwood groves grow only along 450 miles of the Pacific coast, from Monterey, CA, to a southwest corner of Oregon.
• FEEL AWE AND JOY IN COAST REDWOOD forests of 1,000, and 2,000-year-old trees where you'll feel time — and everyday concerns — disappear.  If you're a nature lover, your heart will melt.  Your mind and body slow deliciously down, without effort.  You feel grateful…happy…awestruck, just by being in their presence.  This simple but powerful altered state of being is one of the many gifts these ancient, living tree beings offer us human beings.
• REJOICE IN YOUR BODY & TREAT YOURS SENSES.  We humans, relative to the size and age of giant sequoias, are like tiny children.  These massive, ancient trees will have you feeling free and joyous, like a child, simply by being with them, away from crowds, cellphones, and distractions.

• STAR IN YOUR OWN, ORIGINAL TreeSpirit PHOTOGRAPH by Project founder Jack Gescheidt. In your expanded, relaxed state, be photographed solo, or with your beloved, or in optional group photographs — or all of these.  Be immortalized in an original artwork commemorating this experience and treasure it forever.  (See the gallery of Jack's TreeSpirit photographs).
• RECEIVE a 30″ print of your favorite photograph to memorialize these precious days among sequoias.  Upon seeing your print, your friends will exclaim, "Wow, that's beautiful…" (pause, and then) "…oh my goodness…is that YOU?…"
---
TESTIMONIALS
What people say about their Giant Sequoias Experience:
…the most dedicated and wonderfully spiritual guides imaginable.  And our small group of six sojourners bonded quickly, especially after stripping together, in our first photo shoot in the buff…! (Warm thanks to gorgeous Tye & Lua… totally love you both. : ).      
For me, it was truly magical to commune so deeply with Mother Nature… (with such sweet souls)…the Tree Spirit experience truly soared to the cream at the top of my life's Bucket List…!   I feel humbly grateful.  Thank you all so much…!  I can't wait to see & share the amazing photos that Jack and our Tree Spirit team created.  WARMEST Hugs,  Jan C.
◊◊
Jack, you give me so much more than a heightened appreciation for trees.
The giant trees experience creates a special bond with all the participants when we share our own personal feelings at the end of each day.  You bring people closer to nature, and also facilitate them to connect to each other and their inner selves. This heartfelt sharing we do is my highlight of the trip.
Thank you for the experience, the memories and the fantastic photos as a result.    Love, Tom S.

◊◊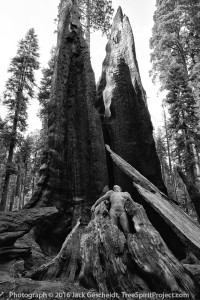 Jack, I was truly honored and flattered to see the photo of me emerging from the trunk of the the charred Sequoia featured in your newsletter as "Prometheus" (unbound no less, by clothing of course!).  It's looks as though I was delivering a direct, in his face, affront to Zeus, having obviously already shared fire with humankind.  Thanks for taking me up on my desire to be included in your gallery.  This particular photo is on our "finalists list".  It is so difficult to decide [which to have as my large print]. 
I am particularly, and unexpectedly, impressed with some of the black and white photos.  They can seem so dramatic.  But the colors of the Sequoias bark is also compelling.  Sooooo difficult to choose. 
 Thanks again for sharing the Sequoias Experience with Barb and me.    – Tom R.
◊◊
Hello Jack,  Am sitting at the San Francisco airport waiting for my return flight to Toronto.  It's been an awesome week.  I don't think I could have picked better places to get to know California for my first time! … so incredible (just like you promised).  Meeting you, Amy, Tom, Heidi and David was also a treat.  As I enter the global news cycle again, I find myself longing for the calm adaptability of the ancient sequoias… and fondly remembering my new calm friends!!….Thanks for the peek at the photos. I am sure I'll love all of them. Still in awe of my tree spirit experience. – Petra
 ◊◊
What a magnificent experience: the majesty of these enormous trees, some older than Christianity, was overwhelming!  The sunlight filtering through these silent giants to the forest floor was truly breathtaking.       
Add a loving and conscientious leader, and a band of delightful, free-spirited fellow hikers: the perfect recipe for a liberating and unforgettable "Nature-al" adventure!
– John M Corboy, MD, Kaunakakai, Hawaii
◊◊
They [the photographs] are beautiful. What a fantastic and unique adventure we shared!  Thank you for making it possible for us to join [The Giant Sequoias Experience].    Love,  Heidi
◊◊
Hi all you naked Tree Spirits…Susan, Jan and I stopped [on the way down from the mts – Ed.] at one of the overlooks and breathed in the last of the delicious, cool mountain air and savored the view and the sweet memories.  What a beautiful and deep experience we shared.  I loved getting to know all of you and I am eagerly awaiting the photos, Jack.    –  Love, Peter (Sept. 2016)
READ MORE TESTIMONIALS from people who loved this unique and exciting way of communing with trees, at bottom of page, and HERE.
---
Giant Sequoias Experience featured in Winter 2005-2006 "N" Magazine.  Excerpt:
"As I hugged a magnificent, ancient, living, rooted-to-the-earth organism, emotions swelled with me, as they did during poses for the other pictures.  But this one, alone, was my ultimate connection with the redwood, the Green Man [a centuries old icon of humanity's connection with the earth, and particularly with trees], and the earth!"
---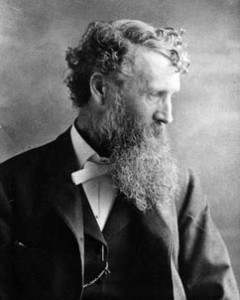 John Muir gushed intoxicatedly about giant sequoias (in a letter to his dear friend and confidante, Jeanne Carr):
I'm in the woods woods woods, & they are me-ee-ee…  The King tree & me have sworn eternal love — sworn it without swearing & I've taken the sacrament with Douglass Squirrels, drank Sequoia wine, Sequoia blood, & with its rosy purple drips I am writing this woody gospel letter.  I never before knew the virtues of Sequoia juice.  Seen with sunbeams in it, its color is the most royal of all royal purples  No wonder the Indians instinctively drink it for they know not what.  I wish I was so drunk & sequoical that I could preach the green brown woods to all the juiceless world, descending from this divine wilderness like a John Baptist eating Douglass squirrels & wild honey or wild anything, crying, Repent for the Kingdom of Sequoia is at hand.
---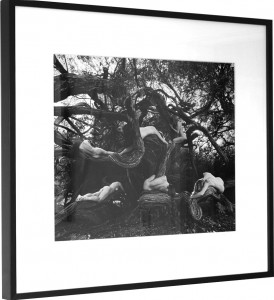 On the Giant Sequoias Experience, a custom TreeSpirit photograph is available without commissioning Jack for a private session, (which starts at $3750, plus travel).
On the Giant Sequioas Experience, a one-of-a-kind trip, personalized portraiture is included among unforgettable trees, at one third the price, $1295, and includes a 20×30″ print of your favorite image created during the retreat.
Accommodations and meals are separate and reasonably priced.  Choose your level of comfort: from simple motel room, to rustic cabin, to modern cabin with vaulted ceiling and picture windows.  
BOOK NOW for best accommodations.  (Our lodging serves national tourists and fills fast.)
Email Jack for details, or with questions.
---
The next 2022 Experience is in California's giant coast redwoods, Sept. 8-11.

THE GIANT COAST REDWOODS EXPERIENCE is 3 full, unforgettable days and evenings with Jack, his support team, and a small group of fellow tree admirers in the privacy of secluded coast redwood forests.  Somatic, meditative, and sharing exercises designed to deepen your experience are tailored to your and each group's unique makeup and dynamics.
Included is a 20 x 30″ print of your favorite photograph made during the trip, starring you among sequoias, so you'll remember and cherish the experience forever.
We enjoy meals together in the dining hall, and gather to share each day's experiences in a respectful, heartfelt group setting.  You can spend evenings with our group, wander beneath a star-filled sky, or relax in your private room or cabin (of your choice) at our rustic mountain lodge.
Between each day's photographic outing and each evening's group gathering for meals, there is time to savor the company of new friends who love the outdoors like you do, or enjoy precious alone time in the mountains on miles of trails around the lodge.

QUESTIONS?  CONCERNS?  If  part of you longs for this adventure, and you want to learn more, email Jack.  He has gently escorted hundreds of people into nature, some to the edges of their comfort zones — all to have the time of their lives!  READ TESTIMONIALS.   READ FREQUENTLY ASKED TRIP QUESTIONS BELOW.**
_________________________________________________________
QUESTIONS? INTEREST? CLICK HERE to contact us re. The Giant Sequoias Experience.
Let us know what you think!
---

___________________________________________________________

WHAT PEOPLE SAY about making TreeSpirit PHOTOGRAPHS
Dear Jack,
I want to let you know that I love the photo from The Angel Oak ("Angels").  That whole experience has stayed with me in ways I never imagined – all positive.  I feel as though I was propelled to be there by the pesonal search I have been on and the reward was stunning.
Thank you for opening your call and cause to others.  There couldn't have been a way for you to know what your photo experiences would give to some of us, but I thank you deeply for the open channel.  You are such a beautiful person and your connection to nature inspiring.  – Heather, May 2011
READ FREQUENTLY ASKED QUESTIONS about THE GIANT SEQUOIAS EXPERIENCE (BELOW).**
READ FREQUENTLY ASKED QUESTIONS about Jack and The TreeSpiritProject.
---
DON'T KNOW JACK?  Meet him in this video by photography chroniclers Fstoppers.com.

---
**FREQUENTLY ASKED GIANT SEQUOIAS EXPERIENCE QUESTIONS:

Do I have to be naked in photographs?  A common question, and the answer is: No.  TreeSpirit's mission, and Jack's passion, is to bring people to trees so they feel a (re!)connection to them.  This can be achieved with or without clothes.  Of course.  There are emotional and psychological advantages to being naked — read Testimonials.  And aesthetic advantages — see the gallery of existing TreeSpirit images.  But the choice is yours.  You may want a lovely portrait of you clothed, or change your mind at any time to enjoy creating your first "nude" in the moment, free of the clothing most of us are conditioned to consider "normal." The individual photographs created on these trips can be requested to be kept confidential if you choose.
Do I have to be able to climb trees?   No.  You can keep your feet on the ground.  Each TreeSpirit photograph is tailored to your individual ability, desires,  and longings.  You may simply touch or hug a giant tree. (If you're reading these words, odds are you'll want to.)  Or, you may unexpectedly be filled with the urge to (try to) climb one of the largest trees on Earth — and have the adventure of a lifetime, while being photographed by a professional photographer!
Shouldn't I first get into shape, lose a few pounds?  Another common question.  Again, the answer is no.  This issue arises for many people making TreeSpirit — or any) — photographs.  Our culture conditions us to never be satisfied with our bodies, no matter what we do, now matter how hard we work out to make them thinner or more toned.  Have you ever been 100% happy with your body, even if you're an athlete, a yogi, or a bodybuilder?  Do you know many people who are?
Accepting — even loving — our bodies as they are, as WE are, is ultimately a matter of self-acceptance, a state of mind, even a state of being.  This is where thousands-year-old trees work their magic.  Relax in an ancient forest and see where your opened heart and a quieted mind lead you — along with your beautiful body.
A)  Do I HAVE to be naked the whole time?  Is this a naturist (nudist) activity?  No, unless you want to be.  People of all ages, shapes, sizes and physical abilities are welcome.  Naturists or nudists are welcomed, as is anyone who feels drawn to trees.  The key requirement is that you feel love for being in nature.
B) But CAN I be naked the whole time?  Is this a naturist (nudist) activity?  Our lodge is not a naturist resort so we are only clothing-free at the trees, far from tourist crowds.

What kind of physical condition do I need to be in?  How much hiking is involved?  Our group will walk 5-7 miles each day, at about 6,500 ft. altitude, with only daypacks (lunch, water, extra clothes).  This distance is spread over a day, and has rests, stops—and photo ops—along the way, including a secluded lunch among sequoias, far from tourist crowds.  Distance and pace vary with each trip, and each day, and is tailored to each unique group's ability and desire.  NOTE: This trip is NOT wheelchair accessible like many TreeSpirit events are.  And only leashed guide and support dogs are allowed on the trails we walk.  Email Jack with questions or concerns.
TRAVEL INFO – nearby airports:
For both Giant Sequoias and Giant Coast Redwoods trips destinations:
• SAN FRANCISCO International (SFO): 250 miles/4-5 hour drive to our lodge
• Sacramento regional/international (SMF): 250 miles; 4-hour drive to lodge
For Giant Sequoas trips:
• LOS ANGELES International (LAX): 260 miles/4-5 hour drive to our lodge
• Fresno Yosemite Regional/Intn'l: (FAT): 60 miles/90 min. drive to our lodge
• Sacramento regional/international (SMF): 250 miles; 4-hour drive to lodge

More Frequently Asked Questions, click here.
---
Among the scenes which are deeply impressed on my mind, none exceed in sublimity the primeval forests undefaced by the hand of man.  No one can stand in these solitudes unmoved, and not feel that there is more in man than the mere breath of his body.
–  Charles Darwin
NATIONAL GEOGRAPHIC VIDEO of a GIANT SEQUOIA
---
TESTIMONIALS (continued from top of page)
Thank you for the three great days among the Sequoia trees.  It was a good experience and good people to share it with.  You have an interesting way to help honor and save trees.  I would like to attend The Giant Sequoias Experience again and maybe a demonstration to help save trees.
Sincerely Yours, JP
◊◊
Jack: I just got the preview photo.  It looks great.  Thanks!   (The muscle tone is better than I anticipated!)  The tree, of course, is magnificent.  Your work is awesome.     
Some thoughts and reactions: The lodging and setting were outstanding.  Great locations in the parks.  Despite the occasional chill, I had a great time and it was a fabulous group of people.  I hope you got numerous outstanding photographs.  As you said in your email, I'll wait for them to come in.
Oh, one other note about your trip: I really got to know people . . . know the group, as a type of bonding experience.  That was nice.
Cheers, Don
---
Autumn 2021 NEWS FLASH:
Giant sequoias and fire have coexisted for centuries. Climate crisis is upping the stakes.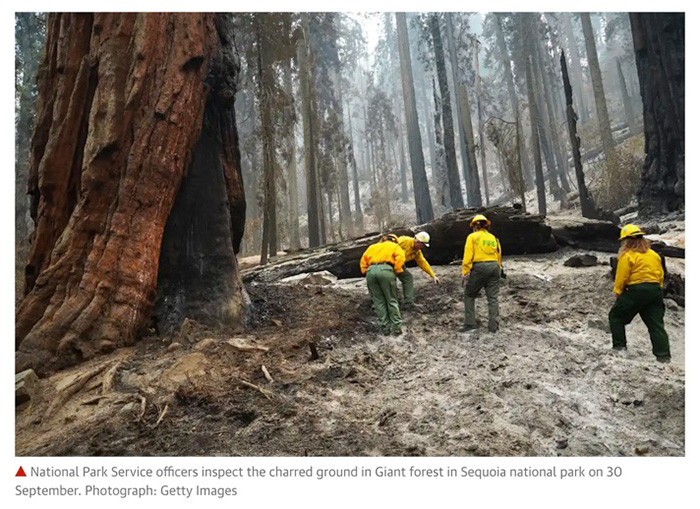 EXCERPTS:
The incredibly resilient giant sequoias that have grown on these ridges for thousands of years, coexisting and evolving with wildfires that helped keep overgrowth at bay and clear space needed for seedlings. But as the climate crisis intensified conditions, causing fires to burn bigger and hotter, the tall trees are starting to succumb in larger numbers.

Climate change has set in motion a devastating cycle, made worse by years of land management practices that enabled the forest to become overgrown.

The death toll for the trees is expected to be significant. But there have also been big wins during the at-times-dramatic firefights, and many popular groves have been spared. In others, where the flames got in but severity was low or moderate, researchers believe the burn will be beneficial.

…there will be many areas where fire behavior is not extreme. [Government scientist Nathan] Stephenson said this isn't either a bad story or a good one. It's both. Fire is an essential ingredient for forest health and even in big blazes that exhibit extreme behavior there are often important benefits.
READ Guardian article (and say a prayer for the giants): https://www.theguardian.com/us-news/2021/oct/03/giant-sequoias-and-fire-have-coexisted-for-centuries-climate-crisis-is-upping-the-stakes?
---
2022 Giant California Coast Redwoods Experience: Sept. 8-11

BOOK NOW for best accommodations choice.  Rooms fill months in advance.
Email Jack for details, or with questions.
Save
Save
Save
Save
Save
Save