1. FEEL AWE AND JOY AMONG GIANT SEQUOIAS of California's Sierra Nevada mountains.  Among forests of 2,000 and 3,000-year-old, trees, time stands still.  Your nature lovers' heart will melt…. Your mind and body slow deliciously down, without effort.  You feel… grateful… happy… just being alive.
2. RECLAIM YOUR BODY and treat your senses. Your appreciation for these ancient trees will have you feeling like a child again, enjoying the freedom and joy in the simple activity of playing among them — and making TreeSpirit photographs with our small, respectful group in a secluded, natural setting.
3. STAR IN YOUR OWN, ORIGINAL TreeSpirit PHOTOGRAPH by Project founder Jack Gescheidt. In an expanded, relaxed state, be photographed solo, or with your beloved, or in opportunities for group photographs.  Or all of the aforementioned.  Be immortalized in an artwork commemorating this experience and treasure it forever.  (See the gallery of TreeSpirit photographs).
4. RECEIVE a 16″ x 20″ signed fine art print of your favorite image to remember these precious days among the sequoias.  Upon seeing your photograph, your friends will exclaim, "Wow, that's beautiful…" (PAUSE, AND THEN) "…oh my goodness…is that YOU?…"
---
Hello Jack,  

Am sitting at the San Francisco airport waiting for my return flight to Toronto.  It's been an awesome week.  I don't think I could have picked better places to get to know California for my first time! … so incredible (just like you promised).  Meeting you, Amy, Tom, Heidi and David was also a treat.  As I enter the global news cycle again, I find myself longing for the calm adaptability of the ancient sequoias… and fondly remembering my new calm friends!!!….Thanks for the peek at the photos. I am sure I will love all of them.

Still in awe of my tree spirit experience,

 Petra  Oct 2013
READ MORE TESTIMONIALS of people who loved this unique, exciting experience.
---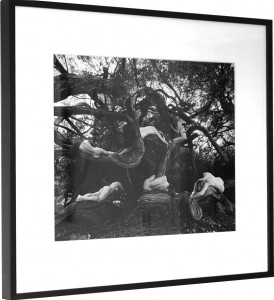 Until now, a custom TreeSpirit photograph was only available by commissioning Jack for a private session starting at $3750, plus travel.
On The Giant Sequoias Experience, this one-of-a-kind, personalized portraiture is only $1195.
Accommodations are separate, reasonably priced, and include meals.  Choose your level of comfort, from simple room, rustic cabin, or modern cabin with vaulted ceiling and picture windows.   Email Jack for details.
---
THE GIANT SEQUOIAS EXPERIENCE 2014 is 3 full, unforgettable days and evenings with Jack, his support team, and a small group of fellow tree fans in the privacy of secluded sequoia forests.  Somatic and sharing exercises designed to deepen your experience are tailored to each unique group.
Included is a 16×20″ fine art print of an original photograph, starring you among sequoias, made during the trip so you'll remember and cherish the experience forever.
You'll spend the cool nights in your private room or cabin (of your choice) at our rustic mountain lodge.  We'll share meals in the dining hall, and spend time sharing each day's experiences in a respectful, heartfelt group setting.
Between each day's photographic outing and group meetings for meals, there is time to savor the company of new friends who love the outdoors like you do, or enjoy precious alone time in the mountains on the miles of trails around the lodge.

QUESTIONS?  CONCERNS?  If a part of you is longing for this adventure, but you want to learn more, email Jack.  He has gently escorted hundreds of people into nature, some to the edges of their comfort zones — all to have the time of their lives!  READ TESTIMONIALS.
CLICK HERE to contact us with questions or interest in The Giant Sequoias Experience, May 15-18, 2014.
Let us know what you think!
---

WHAT PEOPLE SAY about making TreeSpirit PHOTOGRAPHS
Dear Jack,
I want to let you know that I love the photo from The Angel Oak ("Angels").  That whole experience has stayed with me in ways I never imagined – all positive.  I feel as though I was propelled to be there by the pesonal search I have been on and the reward was stunning.
Thank you for opening your call and cause to others.  There couldn't have been a way for you to know what your photo experiences would give to some of us, but I thank you deeply for the open channel.  You are such a beautiful person and your connection to nature inspiring.  – Heather, May 2011
READ FREQUENTLY ASKED QUESTIONS about Jack and The TreeSpiritProject.
---
DON'T KNOW JACK?  Meet him in this video by photography chroniclers Fstoppers.com.

---
NATIONAL GEOGRAPHIC VIDEO of a GIANT SEQUOIA
---
QUESTIONS YOU MAY HAVE:
Do I have to be naked in the photograph?  A common question, and the answer is: NO.  TreeSpirit's mission is to bring people to trees so they feel a (re!)connection to them.  This can be accomplished with clothes on, of course.  But there are emotional and psychological advantages to being naked — read Testimonials.  And aesthetic advantages — see the gallery of existing TreeSpirit images.  You may choose to have a lovely portrait of you made while clothed, or change your mind at any time, and enjoy feeling freer and more connected to nature free of clothing we've almost all been conditioned to accept as "normal."
Do I have to know how to climb trees?  No, again.  You can keep your feet on the ground.  Each TreeSpirit photograph is tailored to your individual ability, desires,  and longings.  You may simply touch or hug a sequoias.  Or, you may unexpectedly be filled with the urge to (try to) climb one of the largest trees on Earth — and have the adventure of a lifetime photographed!
Shouldn't I get into better shape first?  Lose a few pounds?  Another common question.  Again, the answer is no.  This issue arises for many people making TreeSpirit photographs.  Our culture conditions us to never be satisfied with our bodies, no matter what we do, or how hard we work to make our bodies thinner or harder.  Have you ever been completely happy with your body?  Even if you're an athlete, yogi, or bodybuilder?  Do you know many people who are? Accepting — even loving — our bodies as they are, as WE are, is ultimately a state of mind, a state of being.  And that's where thousands-year-old sequoias come into play.  Relax in ancient forests and see where your heart and quieted mind lead you — and your beautiful body, just as it is.
Do I have to be naked the whole time?  Is this a naturist (nudist) activity?  No, unless you want to be.  People of all ages, shapes, sizes and physical abilities are welcome.  The only requirement is that you feel drawn to trees and nature.
What kind of physical condition do I need to be in?  How much hiking is involved?  Our group WILL walk with daypacks (lunch, water, extra clothes) a few miles each day.  Distance and pace varies with each trip, on each day, with each group.  Email Jack if you have specific questions or concerns.

More Frequently Asked Questions, click here.
---
Among the scenes which are deeply impressed on my mind, none exceed in sublimity the primeval forests undefaced by the hand of man.  No one can stand in these solitudes unmoved, and not feel that there is more in man than the mere breath of his body.
-  Charles Darwin