People who will not sustain trees will soon live in a world that will not sustain people.

-  Bryce Nelson

 
Trees purify the air; they also purify the mind…if you want to save your world, you must save the trees.

 -  The Trees of Endor, J.R.R. Tolkien

Among trees, we feel we are a part of something bigger…
…as we do at the ocean, or beneath a starry night sky. Making  TreeSpirit photographs sometimes seem like an excuse for adults to simply play in nature, to again enjoy a child's adventure.  Some participants spontaneously climb or dance or swing in a tree.  Many share stories of how they found sanctuary in one special tree as children.
Over the years, I've learned that the experiences people have making the photographs are important separate from the photographs themselves.
And a larger purpose has emerged over the years from this work-play, with social, environmental and spiritual implications…
---
The TreeSpirit Project MISSION:
• SHARING LOVE & APPRECIATION FOR TREES and nature via TreeSpirit events, photographs and presentations;
• ENCOURAGING PEOPLE'S SENSORY AND EMOTIONAL CONNECTION to trees and the natural world;
• RAISING AWARENESS OF THE CRITICAL ROLE OF TREES in our lives, both globally and personally.  Trees help create and maintain Earth's life-sustaining air, soil, water and animal habitat.  We need trees to survive.  And on a personal level, we humans need trees in order to thrive.  Trees enrich our daily lives in numerous, profound, often inexplicable ways; calming us, soothing us, inspiring us;
• ENCOURAGING AND INSPIRING people to express their own unique experiences and feelings for trees and the natural world, sending waves farther out into the ocean of humanity.
---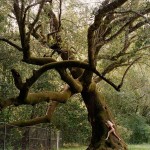 Although the making of each TreeSpirit image is a unique and unpredictable experience, being among trees and feeling connected to them is an ancient, reliable alchemy.  Humans and trees have been connected, interdependent, for thousands of years, and still are.  
READ how being in nature promotes well-being (and being nature-deprived promotes depression): http://www.takingcharge.csh.umn.edu/enhance-your-wellbeing/environment/nature-and-us/how-does-nature-impact-our-wellbeing  And in practical, scientific terms, we need trees to survive as a species.
READ MORE: Oh, what trees do for you.   
We humans may only be here for a brief stay in the cosmic picture, but we have the tremendous power of free will to shape our world.  Many of us in technologically advanced cultures have forgotten the ancient wisdom trees and other life forms patiently hold.  Among them are the simple, profound feelings of wonder and joy of being alive.
If we cherish Earth's myriad living creatures, or better still sense all lives as precious, we can alleviate tremendous and needless suffering, including our own.  We can rekindle in our hearts a reverence for the interconnectedness of all living creatures, and feel the joy and wonder this realization brings.
Go out among trees, even hug some, and share with others what you feel.

- Jack Gescheidt, TreeSpirit Project founder, photographer
• Have questions?  Want more information?  Email Jack.
• Commune with the largest ancient trees on Earth, the giant sequoias of the Sierra Nevada mountains, on The Giant Sequoias Experience.  CLICK HERE.