The ideology of "INVASION BIOLOGY" is promulgated — even by environmental groups like The Nature Conservancy, Audubon Society, and Sierra Club — by the multi-million dollar PR campaigns of chemical companies like Monsanto, Dow, Syngenta, Dupont, BASF.  Why?  To make literally billions of dollars annually selling poisons around the world.
READ INVASION BIOLOGY page
---
By definition, all pesticides and herbicides are poisons.
POISON /'poiz(ə)n/ noun 1.  a substance that is capable of causing the illness or death of a living organism when introduced or absorbed; a substance with an inherent property that tends to destroy life or impair health.
---
HAVE WE LEARNED NOTHING SINCE Rachel Carson's "Silent Spring" was published in 1962?  Over 1/2-century ago, Carson revolutionized America's understanding of the environment as an interconnected web of life, popularizing the fact that we can't poison one living entity without affecting others because all life forms are interconnected.  Today, we all learn this in grade school.  And yet…
"Silent Spring's" extensive research, observations, and conclusions about pesticide's harmful effects  — and the chemical industry's tactics to hide them — have only expanded.  As has pesticide use: 300,000 million pounds of glyphosate was used on U.S. crops in 2013.
"Silent Spring" REVIEW excerpt: 
The overriding theme of Silent Spring is the powerful—and often negative—effect humans have on the natural world.  Carson's main argument is that pesticides have detrimental effects on the environment; she says these are more properly termed "biocides" because their effects are rarely limited to the target pests.  DDT is a prime example, but other synthetic pesticides—many of which are subject to bioaccumulation—are scrutinized.  Carson accuses the chemical industry of intentionally spreading disinformation and public officials of accepting industry claims uncritically. Most of the book is devoted to pesticides' effects on natural ecosystems, but four chapters detail cases of human pesticide poisoning, cancer, and other illnesses attributed to pesticides.
---
---
• Glyphosate is the main — but not the only poisonous — ingredient in Monsanto Roundup™, the most widely used herbicide in the U.S. — 300 million pounds, e.g., were used on food crops in 2013.  And more was used for "weed" control in cities and parks where people are exposed to it.
• In a 2015-16 UCSF study by The Detox Project, 93% of participants (American) tested positive for glyphosate in their urine. Glyphosate has never been studied by regulators or the chemical industry at levels that the human population in the U.S. is exposed to (under 3 mg/kg bodyweight/day) : http://detoxproject.org/1321-2
• "Poison Spring" is an illuminating, terrifying 2014 update on the toxic state of the U.S. pesticide industry; chemical company dominance over the supposedly regulatory agency, the EPA, by insider E.G. Vallianatos, a 25-year EPA administrator.
EXCERPT:  The EPA, created with much fanfare by Richard Nixon in 1970, was an agency crippled at birth by inadequate funding, political hypocrisy, and laws protecting industry profits above all. Vallianatos points out that one of the fledgling agency's greatest handicaps was its initial staffing with personnel from USDA, steeped in the religion of corporate agriculture and lethal technologies.
---
---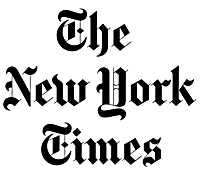 University science tainted by corporate money?
Sept. 5, 2015 New York Times, Eric Lipton:
"Food Industry Enlisted Academics in G.M.O. Lobbying War…"
EXCERPT: Corporations have poured money into universities to fund research for decades, but now the debate over bioengineered foods has escalated into a billion-dollar food industry war.
READ MORE: http://www.nytimes.com/2015/09/06/us/food-industry-enlisted-academics-in-gmo-lobbying-war-emails-show.html?_r=0
---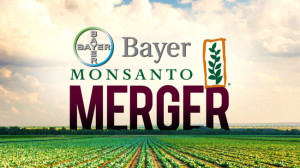 Monsanto & Bayer [mega-merger]: "Why Food & Agriculture Just Took a Turn For The Worse"
EXCERPT: We should be highly concerned about a food system increasingly dominated by companies that have a history (see this on Monsanto and this on Bayer) of releasing health-damaging, environmentally polluting products onto the market and engaging in bribery, cover-ups, monopolistic practices and what could be considered crimes against humanity.
READ MORE: http://www.counterpunch.org/2016/09/16/monsanto-and-bayer-why-food-and-agriculture-just-took-a-turn-for-the-worse
---
May 17, 2016
New Evidence About the Dangers of Monsanto's Roundup, by Sharon Lerner, for The Intercept.
EXCERPT: Until recently, the fight over Roundup has mostly focused on its active ingredient, glyphosate. But mounting evidence, including one study published in Feb. 2016, shows it's not only glyphosate that's dangerous, but also chemicals listed as "inert ingredients" in some formulations of Roundup and other glyphosate-based weed killers. [Some over 1,000 times more toxid. - Ed.] Though they have been in herbicides — and our environment — for decades, these chemicals have evaded scientific scrutiny and regulation in large part because the companies that make and use them have concealed their identity as trade secrets.
READ STORY: https://theintercept.com/2016/05/17/new-evidence-about-the-dangers-of-monsantos-roundup
---
---
---
---
March 24th, 2016
• Glyphosate residue found in ALL California wines tested – including organics: READ ARTICLE, HERE.  Read the study, HERE.


• Monsanto outspends all other Big Ag poison (and GMO) makers to influence Washington politicians, public policy…and your health: READ Union of Concerned Scientists article HERE.
Feb. 2016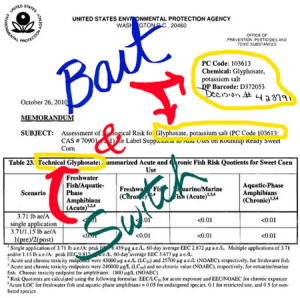 • EPA testing of glyphosate (1/2 of Monsanto Roundup) is a scientifically, negligently flawed Bait & Switch.  The EPA tested only for N-Phophonomethyl glycine, known as "Glyphosate Technical acid,", which is NOT what's actually in Roundup™, which are the 3 glyphosate chemical salts: Potassium Glyphosate, Ammonium Glyphosate, and Isopropylamine Glyphosate used in all Monsanto glyphosate-based products.  It's like approving "salt" by testing only Potassium Chloride (table salt) and then allowing Potassium Cynanide (a poison) into the marketplace.  READ MORE

Feb. 2, 2016
• Monsanto's glyphosate is most heavily used herbicide in history — and puts the lie to chemical industry claims of reduced pesticide use: READ MORE



Sept. 5, 2015
• Agribusiness chemical giants secretly pay academics to criticize opponents: READ NY Times article
May 11, 2012


• How Corporations Like Monsanto Have Hijacked Higher Education By Jill Richardson.  Academic research is often dictated by corporations that endow professorships, give money to universities, and put their executives on education boards: http://www.alternet.org/story/155375/how_corporations_like_monsanto_have_hijacked_higher_education


Aug. 11, 2015
• "Roundup Is Most-Used Herbicide in US and 'Probably Carcinogenic'": https://news.vice.com/article/roundup-is-the-most-used-herbicide-in-the-us-and-its-probably-carcinogenic

Feb. 23, 2016
• Syngenta's atrazine herbicide, which UC Berkeley study found castrates frogs, is banned in Europe — but legal in U.S.: http://www.nytimes.com/2015/02/24/business/international/a-pesticide-banned-or-not-underscores-trans-atlantic-trade-sensitivities.html?_r=0

Feb. 10, 2014
• UC Berkeley researcher finds Syngenta's atrazine herbicide harmful — and Syngenta went after him: http://www.newyorker.com/magazine/2014/02/10/a-valuable-reputation
---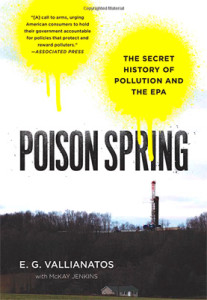 "Poison Spring: The Secret History of Pollution and the EPA" – chronicles how giant chemical companies influence — you could say poison — EPA (Environmental Protection Agency) policy.  A 25-year EPA analyst, author E.G. Vallianatos, reveals how the EPA has failed to protect the public from harmful chemicals and is no longer a watchdog organization.  Instead, it has become the "Polluters' Protection Agency," beholden to the chemical companies it is entrusted to regulate.  READ MORE
---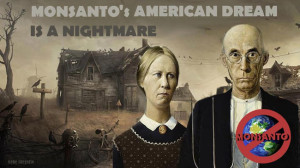 Greatest Hit List of Monsanto poisons:

• dioxin (made with partner Dow Chemical)
• PCBs (polychlorinated biphenyls)
• DDT (insecticide dichlorodiphenyltrichloroethane)
• Agent Orange (a mixture of 2,4,5-T (a chlorophenoxy acetic acid herbicide) and 2,4-D (a 2nd herbicide 2,4-Dichlorophenoxyacetic acid)
• Roundup™ – now 45% of Monsanto's income — its most profitable, widespread poison to date.  So popular a killing agent, we've named this webpage after it!rBGH (Bovine Growth Hormone) which moves from dairy cows to humans
• aspartame, aka, Nutrasweet™, a suspected carcinogen still approved by the FDA and consumed by millions of people!
READ MORE about these Monsanto chemical War-on-Nature games !
---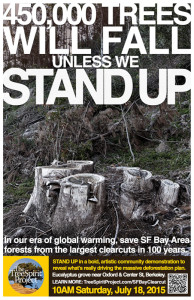 The current 2015 plan to clearcut 450,000 trees in the San Francisco Bay Area includes applying thousands of gallons of  the carcinogenic herbicides Monsanto Roundup™ and Dow Garlon™ to hundreds of thousands of tree stumps to prevent their re-growth, twice each year for ten years or more, as needed, to keep the stumps from re-sprouting.
These well-known toxic chemicals — Dow Garlon™ (triclopyr) and Monsanto Roundup™ (glyphosate) — end up poisoning the land, the water, the birds, the rodents, then the raptors and owls, and of course us humans when we visit these lands, our parks and open space. The manufacturers of course claim they are safe, but a wealth of scientific literature demonstrates otherwise.  See article below.
NOTE: Monsanto sold over $5 billion worth of Roundup™ worldwide in 2014 – so make no mistake, herbicides/pesticides are a giant, profitable corporate business adding fuel to the ideological fire for a war on so-called "invasive" species.  READ MORE
In March, 2015, The International Agency for Research on Cancer (IARC), an arm of The World Health Organization (WHO), reclassified glyphosate as "probably carcinogenic to humans."  and has been linked to tumors in mice and rats.  There is also what the IARC calls "mechanistic evidence", e.g., DNA damage to human cells from glyphosate exposure.  READ MORE in The Guardian, April 21, 2015 article, "Glyphosate is 'probably carcinogenic' pesticide.  Why do cities still use it?"
---
A 1993 UC Berkeley study found glyphosate (Monsanto Roundup's™ active ingredient) to be the most common cause of pesticide-related illness among CA landscape maintenance workers, and the third most common cause among agricultural workers.
---
HUNDREDS OF ARTICLES & STUDIES REVEAL glyphosate (Roundup's™ main ingredient) TOXICITY.  Here are just a few:
Last year, the federal government spent more than $2 billion to fight the alien invasion, up to half of which was budgeted for glyphosate and other poisons.
---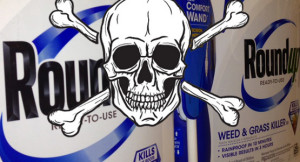 • READ "The Case for Banning Glyphosate" by Dr. Jeff Ritterman, M.D. Monsanto's Roundup™ active ingredient causes birth defects, spontaneous abortions in animals: (Jeff Ritterman, M.D. is VP of the Board of Directors of the SF Bay Chapter of Physicians for Social Responsibility, retired chief of cardiology at Kaiser [hospital] Richmond, CA: http://www.truth-out.org/news/item/29244-will-richmond-reject-roundup-the-case-for-banning-glyphosate
---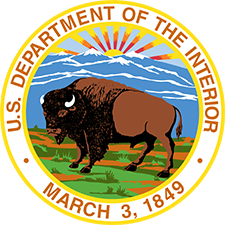 • READ Reuters news report, "U.S. researchers find Roundup chemical in water, air"  by the U.S. Geological Survey Office, part of the U.S. Dept. of the Interior.
…glyphosate, the key ingredient in "Roundup" herbicide, was found in every stream sample examined in Mississippi in a two-year period and in most air samples taken. Tests were also done in Iowa.  "So people are exposed to it through inhalation," said [Paul] Capel, head of the agriculturual chemicals team:
http://www.reuters.com/article/us-glyphosate-pollution-idUSTRE77U61720110831
---

• 99.6% of German citizens have glyphosate in their bodies — 75% with concentrations above E.U.'s legally safe levels.  Read the study: http://beyondpesticides.org/dailynewsblog/2016/03/study-finds-majority-of-germans-have-glyphosate-in-their-bodies

---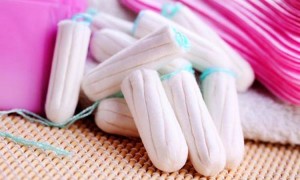 • 85% of cotton tampons (and other cotton feminine hygiene products) contain traces of glyphosate (Monsanto Roundup's™ active ingredient), found a study by Argentine scientists. These are residues from treating the majority of of the world's cotton crop with this toxic herbicide that its manufacturers insist dissipates quickly and doesn't reach humans: http://revolution-news.com/argentina-study-found-glyphosate-in-cotton-tampons-gauze-pads-swabs
---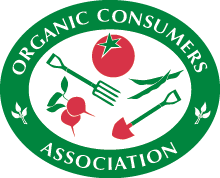 • "Enough To Make You Sick," an overview of Monsanto's Roundup™, including ADHD, Alzheimer's, autism, birth defects, brain and breast cancers, kidney disease, colitis, depression, diabetes, liver disease, Parkinson's, obesity, MS, and more.  By Alexis Baden-Mayer, Organic Consumer's Fund: http://www.truth-out.org/news/item/28856-monsanto-s-roundup-enough-to-make-you-sick
---

• "Monsanto Knew of Glyphosate-Cancer Link 35 Years Ago," by Global Research News, April 19, 2015: "…[long-term - Ed.] 3-generation reproduction study in rats and another is called "A Lifetime Feeding Study Of Glyphosate In Rats"; but like all the other older studies they were and still are treated as Trade Secrets and cannot be freely accessed for independent scrutiny.": http://www.globalresearch.ca/monsanto-knew-of-glyphosate-cancer-link-35-years-ago/5443741
---

• Roundup™ found to be over 125X more toxic than glyphosate (Roundup's active ingredient) alone.  The problem of underestimated toxicological risk is so severe that the researchers describe previous research which found unexpected toxicity in so-called 'inert' adjuvants that were up to 10,000 times more toxic than the so-called active principle glyphosate itself, revealing them to be a greater source for secondary side effects than the main ingredient itself. http://www.greenmedinfo.com/blog/roundup-herbicide-125-times-more-toxic-regulators-say
---

• France acts to ban glyphosate, GMO crops.  Sept. 2015.  France is so opposed it will bypass the European Union: http://www.reuters.com/article/us-france-gmo-idUSKCN0RH1BV20150917
---

• The Netherlands bans glyphosate, joining Brazil, Germany, Scotland, Greece, Argentina, Latvia, Sri Lanka, Bermuda, France in bans or partial bans. May 2015. What do they acknowledge that the U.S. doesn't?: http://www.collective-evolution.com/2015/05/30/why-the-netherlands-just-banned-monsantos-glyphosate-based-herbicides
---

• READ "More Evidence of Roundup's Link to Kidney, Liver Damage" by Brian Bienkowski, Environmental Health News: http://www.truth-out.org/news/item/32585-more-evidence-of-roundup-s-link-to-kidney-liver-damage
---

• Vandana Shiva on seeds, patents, copyrights, rights — and Monsanto lobbying: "Despite the fact that 90% of American citizens want GMO labeling on their food, big business is doing everything it can to prevent people from accessing their rights: http://ecowatch.com/2015/07/25/vandana-shiva-end-monsanto
---

• READ "Roundup and glyphosate Toxicity Grossly Underestimated," an overview of glyphosate toxicity, by Dr. Joseph Mercola (osteopath): http://articles.mercola.com/sites/articles/archive/2013/07/30/glyphosate-toxicity.aspx
---

• READ The World Health Organization (WHO) report classifying glyphosate (Roundup's active ingredient), "probably carcinogenic to humans" in March 2015 report: READ REPORT.
---

• READ Reuters news report, Aug. 19, 2015, "Scientists call for new review of herbicide, cite 'flawed' U.S. regulations": http://mobile.reuters.com/article/idUSKCN0QO28D20150819
---

• READ "Nearly 300 experts agree GMOs not proven safe": http://www.gmwatch.org/index.php/news/archive/2013/15210-nearly-300-experts-agree-gmos-not-proven-safe
---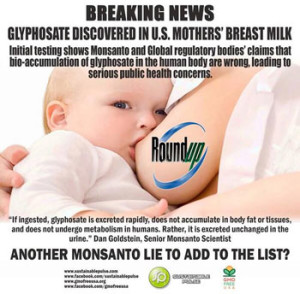 • READ how glyphosate (Roundup™) is now found in… the breast milk of American women: CLICK HERE

• AND in the breast milk of women in Germany: CLICK HERE
EXCERPT: "…testing on glyphosate herbicide in the breast milk of American women, Moms Across America and Sustainable Pulse have found 'high' levels in 3 out of the 10 samples tested…results point to glyphosate levels building up in women's bodies over a period of time, which has until now been refuted by both global regulatory authorities and the biotech industry.
---

• Herbicide use (and Monsanto's glyphosate-based formulation, Roundup™) has INCREASED with the introduction of genetically-modified organisms and herbicide-resistant crops, not decreased as the chemical industry repeatedly claims: http://www.enveurope.com/content/24/1/24
---
• Journal of Pesticide Reform HERBICIDE FACTSHEET on GLYPHOSATE, Winter 2004, Vol. 24, No. 4: CLICK HERE
---
"Almost all the top positions at the agencies that protect our environment and oversee our resources have been filled by former lobbyists for the biggest polluters in the very business that these ministries oversee." -  Robert Kennedy, environmental attorney, "Crimes Against Nature"
---
VIDEO: Monsanto lobbyist Patrick Moore says he'll drink Roundup™ — but his bluff is called:

---
"Scientific and technological "solutions" which poison the environment or degrade the social structure and man himself are of no benefit, no matter how brilliantly conceived or how great their superficial attraction." 

- E.F. Schumacher, economist, author, "Small Is Beautiful"
---
VIDEO: Why Are We Being Fed By A Poison Expert?  A fun, informative 5 min. primer on your food, GMOs, Roundup™ and the other poisons Monsanto is feeding you.
---
MORE LITERATURE on THE HAZARDS OF PESTICIDES: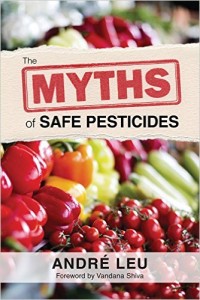 Right in the preface to The Myth of Safe Pesticides, by Andre Leu, we learn the hidden truth: pesticides create pests, they don't control them. Biodiversity, not monolithic monoculture crops, is our ally in dealing with pest problems.
The rest of The Myth of Safe Pesticides is a hailstorm of facts. There is no padding, no narrative, no tangents, no stories of suffering or redemption, no sugarcoating.  Rather than a personal rant, Leu lets the scientific studies speak for themselves — and there are hundreds to choose from.
Each chapter dispels a myth about the safety of pesticides, and by extension, the government regulators and corporate community evaluating them:
Myth #1 – Agricultural poisons are rigorously tested.   Actually, of the more than 88,000 chemical compounds unleashed on the world since the end of World War II, only a few hundred have been (incorrectly) tested, only three have ever been banned, and none have been tested in combination with any of the others, inside the human body.
Myth #2 – Very small amounts  The old adage is the dose makes the poison. Actually, the body doesn't care about massive amounts. It's the tiniest parts per billion and even trillion that latch on to proteins, hormones and cells, block communications from the brain, disrupt the stability of the network, and create massive imbalances in cell growth (cancers) and the various "new" chronic diseases of the past 25 years. It's the tiny amounts that kill.
Myth #3 – Breakdown   Modern pesticides rapidly degrade. Actually, residues concentrate the poisons. When toxic poisons break down (biodegrade) they can become oxons, 100 times more toxic than the original pesticide. Glyphosate (Roundup) at residue levels induces human breast cancer cells to multiply 8-13 times. It grows cancer.
Myth #4 – Reliable Regulation   Actually, they cannot be counted on for protection.  [See E.G. Vallianatos' book, Poison Spring, by a 25-year EPA analyst, above – Ed.]
Myth #5 – Pesticides are essential to farming.  In reality, yields are higher and the earth richer and more stable without them.  Such crops also withstand extremes, now a common occurrence, far better than pesticide and chemical fertilizer farming, and even substantially reduce farming costs.  [Review adapted from Amazon reviewer, David Wineberg – Ed.]
---
VIDEO: Monsanto: Picking Up God's Slack  In the spirit of fairness, we wanted to give Monsanto this chance to show to state their perspective: helping humanity with their wide and ever-increasing range of agricultural biocide products and technologies.  Produced by HLGstudios.
---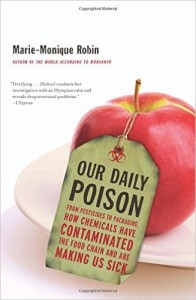 Even if you've read up on the dangers of Monsanto products, Our Daily Poison by Marie-Monique Robin will have you soon realize you don't know the half of it.  Agrochemical, pharmaceutical and industrial corporations are poisoning people and the environment with full knowledge of their culpability and with no intention of letting up.  Fraud, lies, corruption, and influence-peddling reported in Robin's hard-hitting book will leave you disgusted and frightened enough for our future to challenge and change the status quo.  The regulatory fraud by the poisons industry is worse than you imagined; the so-called "science" they distort and exploit is shocking.
EXAMPLES:
- Toxicologists use a particular breed of rats for animal testing known to be immune to the tested substance.
- Selective use of lab results by regulator agencies: picking only the few studies that do not show chemical harm while ignoring 100 that do, to justify high, toxic limits on individual human exposure.
- Not taking into account the accumulation of poisons in our bodies from scores of daily poisons exposures in our households and work environments.
- Revolving door relationships between polluters and regulatory boards.
Cancer rates continue to rise.  Genetic experimentation for profit that ignore risks are rampant.  The future of life on our planet, including human beings, is demonstrably at risk.  Robin has spanned the globe for this work and a companion documentary film, drawing on multiple, verifiable sources.
The only shortcoming of this well-documented work for an English reader, is that the translation from French is sometimes awkward, though always understandable.
One positive note: in numerous studies, every young child tested today shows pesticides traces in her/his urine, but after switching to an organic diet, every child's urine cleared of any detectable trace. Meaning the harm continues while non-organic foods are consumed, the harm can be undone (from food sources at least) by consuming organic foods.  We are what we eat.
---
VIDEO: Monsanto sues farmers whose crops are contaminated with neighboring farms' Monsanto seeds.  In 2014, the U.S. Supreme Court handed Monsanto a major victory, dismissing the 2011 case, Organic Seed Growers and Trade Association et al. v. Monsanto, that would have stopped Monsanto from suing farmers for patent infringement when their fields were contaminated by neighboring GMO farmers' Monsanto seeds.
Ronnie Cummins, Organic Consumers Association director, said of Marsh's case: "This is a perfect example of how the biotech industry and genetic engineering undermine not only human health, and the health of the environment, but also the very basis of democracy itself, and the long-held rights of farmers to protect their land from toxic trespassing."
---
VIDEO: How and why glyphosate (50% of Monsanto Roundup™) harms human intestinal bacteria, and more.

Jeffrey Smith of The Institute for Responsible Technology interviews Dr. Stephanie Seneff, Senior Research Scientist at the MIT Computer Science and Artificial Intelligence Laboratory.

---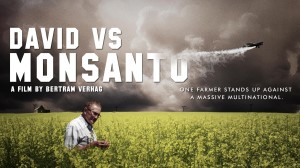 THE ETHICS OF MONSANTO:
"David Versus Monsanto" documentary film tells the chilling details of how Monsanto's GMO seeds spread to a Canadian farmer's crops and then Monsanto sued him for "stealing" their patented product, demanded all the crops and any profits from there were now the property of Monsanto — and won in court!
---