CLICK THE PLAYHEAD, BELOW:
---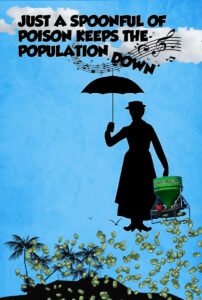 SONG:  "Just A Spoonful of Poison Drives The Population Down"
Think Mary Poppins on crystal meth, with an AR-15. A spit-spot bloodbath!
JULY 2023: A happy song about the profit-driven, multi-million dollar project to aerially bombard (with helicopters) the Farallon Islands National Marine Sanctuary, in the Pacific Ocean 28 miles off the coast San Francisco, with at least 3,500 lbs. of a toxic, 2nd-generation, anti-coagulant rat poison, Brodifacoum.

Sounds like a wonderful idea, doesn't it?
READ ALL ABOUT THE Farallon Islands POISON DROP, HERE.
The goal? Kill literally thousands of house mice who have been living on these remote islands, and integrated into the island's food chain for over 150 years!
Why? The poison contractor's claim is the mice attract about one dozen burrowing owls to the islands, and then eat the eggs of the threatened Ashy Storm Petrel. Repeat, this is a disputed claim, not established science.
But he U.S. Fish & Wildlife Service, which has yet to approve this poison bombardment in a National Marine Sanctuary as of 2023, estimates over 1,000 Western gulls will also be killed by the poison.  And that's not who-all.
Play the song below to learn more!
 CLICK THE PLAYHEAD, BELOW:
---