CLICK THE PLAYHEAD, BELOW:
---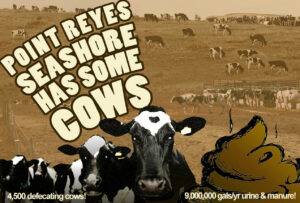 SONG:  "Point Reyes Seashore Has Some Cows"
About 4,500 privately-owned beef and dairy cows run roughshod over the public land of Point Reyes National Seashore, a national park unit in west Marin County, CA, about 20 miles north of San Francisco.
The average person, including visitors to this popular seashore, have no idea what's going on with the cows, why they are there — and that the ranchers are renting their land from the American people — at bargain-basement rates, less than half the market value.
And as thanks, their cows are the park's major source of land degradation, water contamination and air pollution (methane) too! What a deal!
READ  ABOUT Point Reyes ISSUES, HERE.
Or just play the song below!
 CLICK THE PLAYHEAD, BELOW:
---