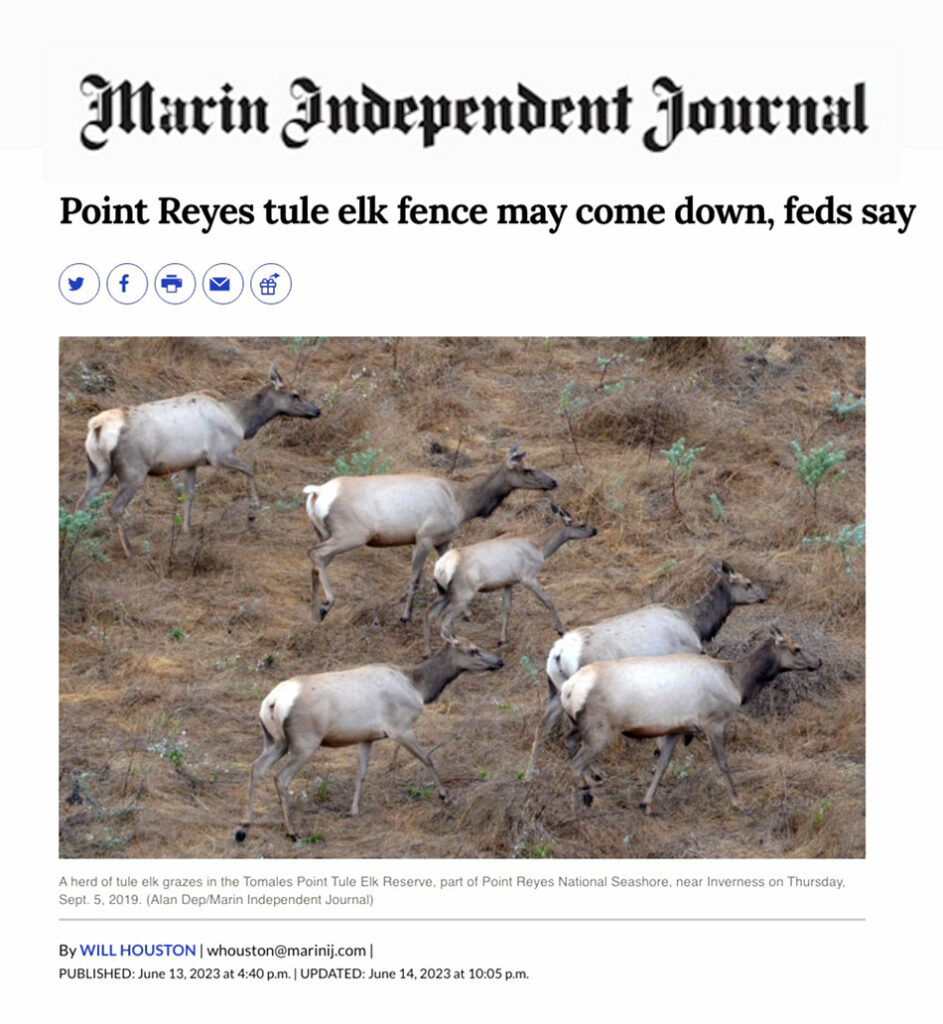 Both pro-private-cattle ranchers and pro-wild-elk activists were surprised by the National Park Service's news release about its proposal to dismantle the controversial 3-mile-long, 8-foot-tall Tule Elk Reserve fence at Point Reyes National Seashore.
The Park Service's proposal signals a reversal of 45 years of Park Service policy of fencing in the park's largest herd of Tule elk (currently the largest of the park's three herds).  The policy began in 1978, when the fence was built, and when a few of these elk, a sub-species native to California, were re-introduced into this national seashore.  "Reintroduced" because Tule elk numbered in the thousands in California for thousands of years before being hunted and killed to the brink of extinction by European hunters and settlers.
But artificially confining these large ungulates with fencing inside a national park unit was done, and continued until today, solely to benefit private beef and dairy ranches. These commercial businesses lease 28,000 acres of the seashore park, a full 1/3rd of the public park, and effectively close all this land to the public. (And the large cattle operations, with thousands of cows outnumber Tule elk about 9:1,  simultaneously degrade, desiccate, compact and over-graze the land, while the massive amount of their manure pollutes the park's groundwater — it. READ MORE.)
Announced silently with a Friday email on June 9, 2023, we activists have now had time to chew on and stew over the Park Service's proposal over, attempt to fact-find, and of course share gossip, and ultimately are left to only speculate on the answers to the two big. obvious questions:
1) Is this NPS proposal genuine, or just a public relations stunt?
and
2) If genuine, what caused the Park Service to finally reverse its position now, after decades of refusing to do so?
---

VIDEO | CBS-TV News: Park Service proposes dismantling deadly elk fence – June 19, 2023
---
The answer to the first question is: we believe so. The NPS is a bureaucracy that may be slow-moving, but it is not one prone to gambits, trickery and deceit as individuals can be. So this proposal to remove the fence is actually, most likely, cautiously-but-probably real… good news!  The NPS has officially begun a process with the proposal, to be followed by a public comment period to be announced later this summer (2023).
This summer  the activist community will do public outreach — including to you and your neighbors, dear reader — to elicit literally thousands of comments from people around the country to commend the Park Service's surprise proposed action, and encourage the agency to move full steam ahead, by finalizing their proposal and then implementing it immediately upon final approval, which means dismantling the fence, which is a relatively simple, straightforward and inexpensive task, simply removing sections of the woven wire fence. (It may also require stringing two lines of straight, not barbed, wire, one about 12″ off the ground, one about 36″ off the ground, which would allow elk to easily cross south into adjacent ranch lands, while deterring cows from exploring the current Elk Reserve to their north.)  This fence dismantling and reconfiguring would, finally, after decades, allow the park's wild elk trapped inside the Reserve to roam freely to the south as they please, intermingle with other herds over time as they see fit, and all be much healthier for it. (More about the whys of this in future blogs.)
As to the second question, the short answer is we don't know, and may not ever really know. Could it be due to:
• the legal pressure of two unique lawsuits suing the Park Service for both its deadly mismanagement of the Tule Elk Reserve, killing over 475 elk in a decade? Or because of ongoing negotiations in a second lawsuit brought against the agency, focused more on the pollution and disastrous lack of oversight of the beef and dairy ranches which have demonstrably degraded and polluted thousands of acres of public land, as well as polluted park waterways and public beaches extending beyond ranch boundaries? Or because of…
• Numerous public surveys which consistently demonstrate overwhelming public support for freeing the park's Tule elk and little support for private-profit cattle operations which are already plentiful in surrounding west Marin County and nearby Sonoma and Napa counties?  Or could it be because…
• Public and political pressure of relentless and increasing demonstrations, media attention and public outrage? Or because of…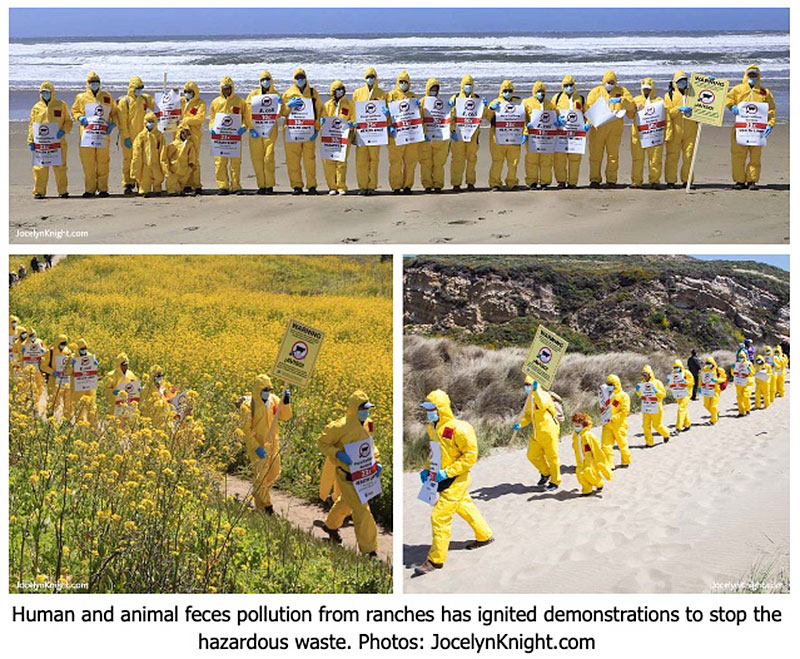 • Independent surface water testing which has documented water pollution from cows; about 9 million gallons of cow manure and urine dumped directly onto park land. Which means that every year, for decades, beef and dairy ranches create an annual torrent of fecal bacteria contamination of Point Reyes waterways, including its famous lagoons, estuaries (esteros), and popular recreational beaches.
READ Point Reyes WATER POLLUTION TEST RESULTS.
• Broken, leaking human septic systems at ranches, which are neglected, in disrepair and add human fecal matter to the waste stream from cattle field and their "poop lagoons" which overflow during winter rains. Numerous violations have been uncovered, once again by citizen activists who do what the Park Service has never done, which is monitoring tenant ranch lease violation with pollution violations.
READ MORE about Point Reyes ranch sewage leaks.
Or could the Park Service's seemingly sudden policy reversal on fencing Tule elk be because…
• Insiders have insisted (but without offering substantive proof) that the years of bad publicity at Point Reyes is an embarrassment to the Park Service, anathema for parent agency, The U.S. Interior Dept., and even the Biden Administration which currently oversees it all.  All parties want the flood of bad press — Point Reyes cattle fouling the park and killing its wild elk — to end.
Or could it be all of the above, an onslaught of negligence, ecological pollution, graft, lawsuits and the accompanying deluge of bad press?  Most of which would be at least reduced by finally tearing down the fence, even without addressing the reason for the fencing in elk in the first place… which is the existence of private, for-profit cattle operations inside a national park.
Removing the fence, if not the ranches, would at least alleviate some of the public pressure (and not to mention save elk lives).
We don't know, and in the end may never know. At least not until some whistleblower writes a book about the behind-the-scenes story one day. In the meantime, we activists celebrate this big step forward and will invite the public to join us both in celebrating, in thanking the Park Service for this first step in the process toward elk freedom, and press for protections for the elk once they are, finally, after 45 years of confinement inside a mere 2,600 acres of parched land, freed to wander all 71,000 acres of Point Reyes National Seashore as the park's founders intended for all the wild animals within it.
• READ Marin Independent Journal article: Point Reyes Tule elk fence may come down, feds say – by Will Houston, June 13, 2023
• READ MORE BACKGROUND on this website's Tule Elk page.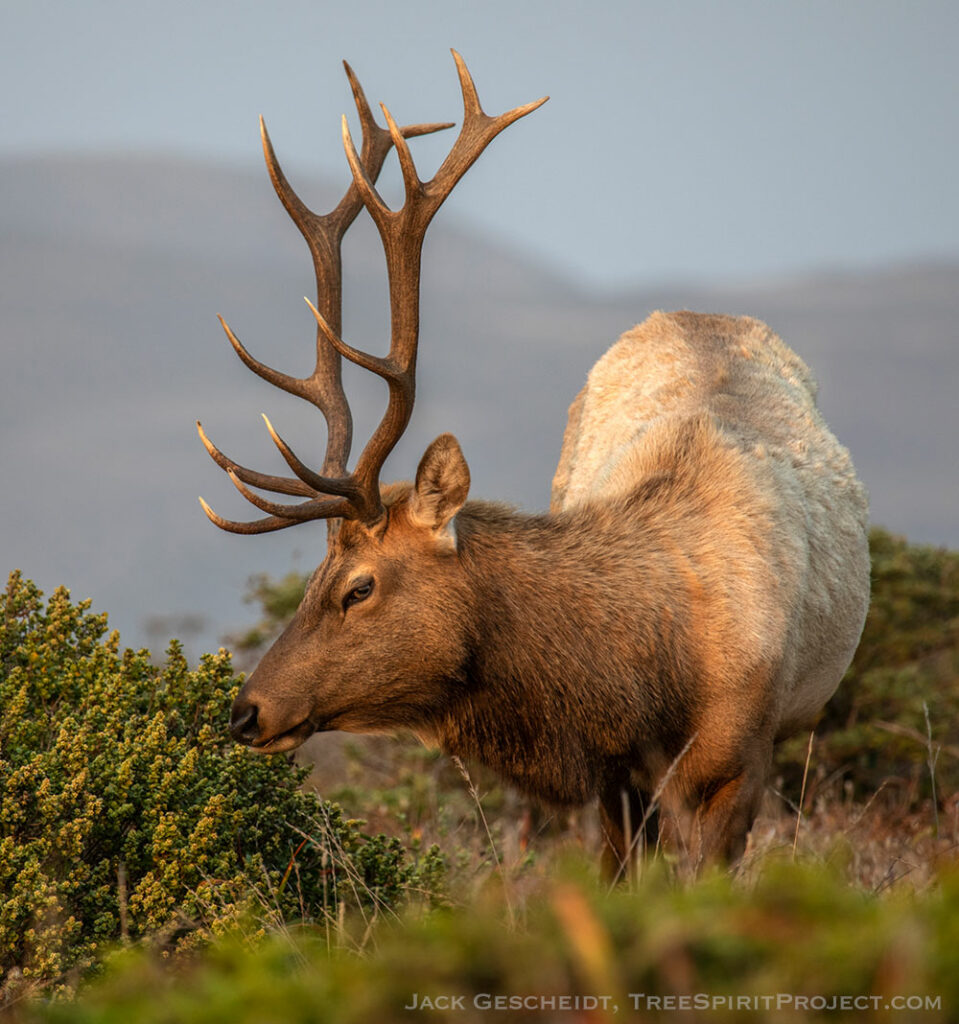 GENTLE BEAUTY – A lone "bachelor" Tule elk in the northernmost herd in the Point Reyes Tule Elk Reserve at Tomales Point. Photo: Jack Gescheidt