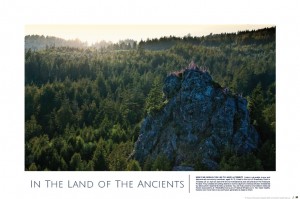 A beautiful 18″x24″ art poster on recycled paper, commemorating the amazing effort on behalf of forest lovers willing to make a dramatic, daring, and moving image to show their affection for a 2nd growth forest under threat of additional logging — one they hope to preserve.
The text reads:
HOW FAR WOULD YOU GO TO SAVE A FOREST?  Naked, vulnerable, brave and determined community members, aged 19-72, hiked to the top of Strawberry Rock in Trinidad, CA on April 27, 2013 with environmental artist Jack Gescheidt of The TreeSpirit Project.  They created art calling attention to the plight of a redwood forest threatened by destructive industrial forestry practices.  You can help preserve and restore redwood forest ecosystems at WildCalifornia.org and TreeSpiritProject.com.  We need healthy forests now more than ever, and future generations deserve them.
READ MORE about the adventure behind the making of this photograph, HERE.
• Heavy 100 lb. cover stock
• 100% recycled, 50% PCW "Reincarnation" paper by NewLeafPaper.com
• A fraction of the cost of limited edition fine art prints
$25, signed by Jack Gescheidt, includes shipping within the U.S.