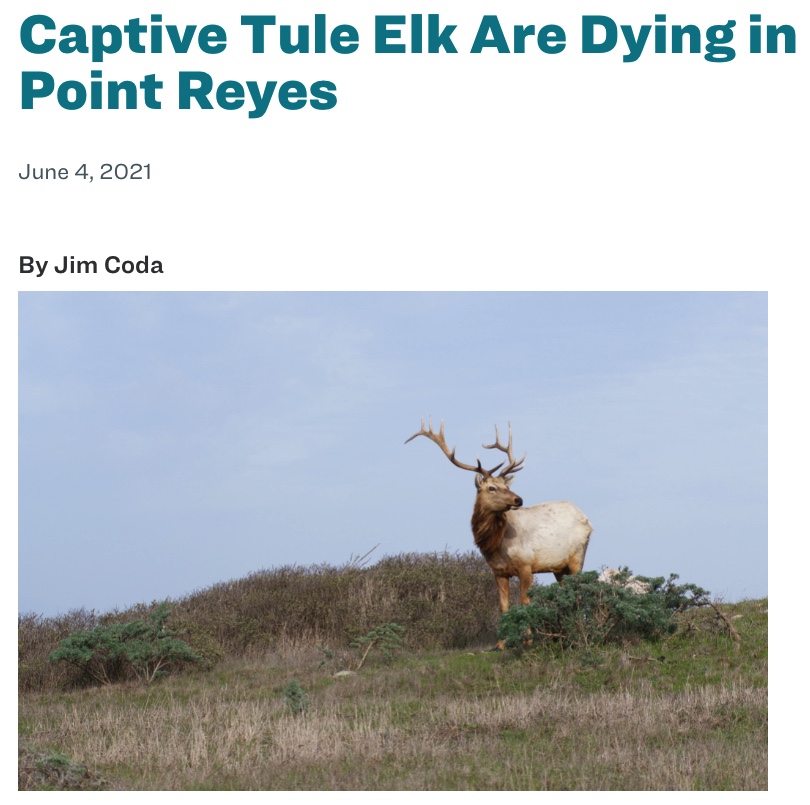 The Bay Area Chapter of the Sierra Club has weighed in on the lethal National Park Service policy of keeping hundreds of rare, wild Tule elk inside a compound lacking adequate food & water.
Any zoo doing this, keeping animals from food & water, would be charged with criminal animal abuse.  Only an outraged public can force the federal policy change needed to save these Tule elk from extermination – – again:
Written by retired Dept. of Interior attorney, Jim Coda. June 4, 2021.
EXCERPT:  …tule elk are held captive behind an 8-foot-tall, woven-wire fence. 254 individual elk (47% of the population) died there during the 2012-2015 drought while the wild, free-roaming Drakes Beach and Limantour herds increased.  We are now in another drought.  The Seashore allowed another 152 elk to die in the Tomales Point enclosure last year.
https://www.sierraclub.org/san-francisco-bay/blog/2021/06/captive-tule-elk-are-dying-point-reyes
LEARN MORE about the plight of the wild Tule elk being killed by brutal, disturbing National Park Service policies, and how you can help: http://www.TreeSpiritProject.com/elk