If you read just one article this month about the climate crisis, read this one (CLICK HERE).
2 big takeaways:
What you eat matters – and eating less meat is key. (For most people, eating meat, especially beef, is a lifetime habit, but it's heating the planet as fast as our burning fossil fuels — but it's one you have much more personal control over. You may have to drive to work, but you don't have to eat so much meat.
WATCH OUT: The beef industry is pumping out millions of dollars of pubic relations disinformation to muddy the waters. Their goal: inject just enough confusion and doubt to hide the truth about meat's huge climate impact. This is what the fossil fuel industry did for decades (and still does). One example of Big Beef's B.S.: so-called "regenerative ranching" – READ ABOUT regenerative ranching
Big beef's climate messaging machine: confuse, defend, downplay. May 3, 2023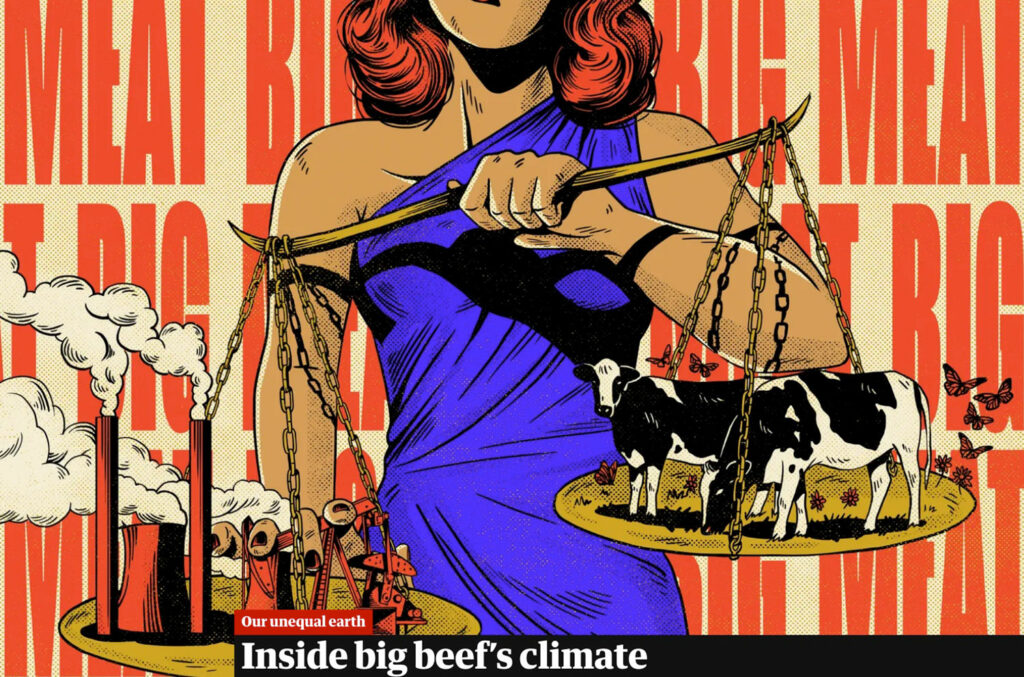 [The beef industry] …does not want you to read scientific papers showing wealthy nations must reduce meat consumption to keep below the average global temperature rise of 2ºC, a threshold to stop systems collapse, mass extinctions, fatal heat waves, drought and famine, water shortages and flooded cities. – Illustration by Lola Beltran, The Guardian
READ Guardian ARTICLE by Joe Fasler, May 3, 2023: https://www.theguardian.com/environment/2023/may/03/beef-industry-public-relations-messaging-machine
EXCERPTS:
"…the truth is that we already eat too much beef for the planet's good. The world can't afford the rise in global beef consumption that experts predict – while wealthier nations, whose residents have the most emissions-intensive diets, could make rapid climate gains by choosing to eat less.

This narrative is one that industry-aligned interests badly want to extinguish. Through blog posts, videos, educational assets, op-eds, TV ads, social media campaigns, trained influencers and other channels – many described here for the first time – the industry is trying to convince us all of what the science definitely doesn't show: that dietary change has no role in climate strategy.
According to a landmark study in the peer-reviewed journal Science, every kilogram of beef consumed adds a whopping 99.5 kgs of CO2 equivalent greenhouse gasses to the environment, on average. It was the most climate-damaging food studied, and the competition wasn't even close.
The Science study found that, on average, producing a kilogram of beef contributed over 22 times more to climate crisis than producing a kilogram of rice and 63 times more than a kilogram of wheat. Root veggies, certain tree fruits and nuts were all more than 200 times more climate-efficient by weight than beef.
What makes beef such an outlier? Cows essentially chew for a living – masticating and regurgitating grasses all day long so that tough plant fibers can pass through their multiple stomachs. This process, called enteric fermentation, allows ruminants to nourish themselves – and therefore us – on plants few other animals could eat. But all that chomping comes with plenty of reflux and belching and every burp emits a little methane, a planet-warming gas 28 times more powerful than carbon dioxide over 100 years. (It's a common misconception that cow farts are what cause warming; from a climate perspective, the burps are what matter.)
READ Guardian ARTICLE by Joe Fasler, May 3, 2023: https://www.theguardian.com/environment/2023/may/03/beef-industry-public-relations-messaging-machine
---