This bold demonstration of support…
…for woodlands, meadows, wildlife and community was held March 23, 2013.  Like all TreeSpirit events, it was peaceful and harmless, inspired by the endangered trees and land it was designed to draw attention to.
---
---
Less than 2 weeks later, Caltrans is bulldozing the land and chainsawing trees in the photograph above.  They have ignored community outrage, increasing state-wide concerns, a California State Senator's questions, and a pending June court challenge.  Peaceful tree sitters have been removed by force and other demonstrators denied access "for their safety."  As thousands more citizens learn what's at stake, and how unrelenting, uncompromising — and now violently — Caltrans is acting, upset and outrage grow.
---
Caltrans set on spending $200,000,000 of taxpayer money.
CLICK HERE:  http://abclocal.go.com/kgo/story?section=news/assignment_7&id=9097038
(NOTE: Add a comment on ABC's website to show this story gets attention and merits follow-up coverage.)
---
Detailed story with impassioned interviews on KPFA radio.  Worth the effort to find — drag playhead to 33 min. mark: http://www.kpfa.org/archive/id/90327
---
More news stories:
• Santa Rosa Press Democrat (4.2.13):  http://www.pressdemocrat.com/article/20130402/ARTICLES/130409922/1033/news?Title=Willits-protester-forced-out-tree-cut-down
• SF Bay Guardian (4.2.13): http://www.sfbg.com/politics/2013/04/02/tree-sitter-shot-70-feet-chp-rubber-bullet
• SF Chronicle (4.2.13):  http://www.sfgate.com/news/article/Freeway-protesters-trees-cut-down-4403696.php
• Associated Press story in Seattle Post (4.2.13): http://www.seattlepi.com/news/crime/article/6-tree-sitters-arrested-in-highway-project-protest-4404262.php
• KIEM TV (4.2.13):  http://kiem-tv.com/node/5152
• KQED video & photos 4.2.13: http://blogs.kqed.org/newsfix/2013/04/02/willits-tree-sitter-warbler-removed-and-arrested-in-highway-101-bypass-protest/
• CA State Senator Noreen Evan's update and opinion
• North Coast Journal story: http://www.northcoastjournal.com
• Willits News story: http://www.willitsnews.com/ci_22876886/willits-bypass-construction

---
Few Californians know about "The Willits Bypass" highway project, a $210,000,000 dollar highway project, and an environmental disaster for Willits, CA (137 miles of San Francisco).  Deforestation and 87 acres of wetlands fill-in has begun, even with an environmental challenge pending in the courts.
87 acres of wetlands in Willits Valley, CA will be drained and filled in — the largest wetlands fill permit granted in northern California in 50 years.  Additional acres of woodlands and valley streams, salmon and wildlife all face devastation by this massive, unnecessary highway extension.
Learn more, share the facts: Willits Bypass FACTS PAGE
• Center for Biological Diversity PRESS RELEASE
• KQED blog (read this post's comments, too): http://tinyurl.com/cjq88we
• Willits Valley (SOLLV) website (community updates): http://www.savelittlelakevalley.org
---
---
New to TreeSpirit?  See examples of how TreeSpirit draws attention to environmental hotspots.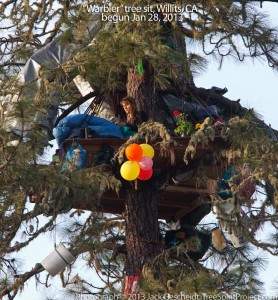 • A brave woman, "The Warbler," has been tree sitting in Willits Valley since Jan 28, 2013 to raise awareness.
• Her ground support team have been arrested, her tree fenced off, and she has begun a hunger strike as of March 28, her 2-month anniversary, a very risky action while 60 feet above the ground.
• Activism, art, community action and legal actions can still save this land — and wasting $210 million California taxpayer dollars.  You can help (see bottom of page).
BACKGROUND:  Since January 28th of this year, a 24-year-old Willits resident, calling herself "Warbler" for the tree sit, is living day and night in an 80-foot-tall ponderosa pine tree.  She is peacefully, dramatically calling attention to "The Willits Bypass," a $200 million environmental disaster.
The Willits Bypass is what Caltrans (the California Dept. of Transportation) calls their plans for a new 2-lane, 6-mile highway, routing Hwy 101 traffic around the town of Willits, population 5,000.  Caltrans will drain and fill-in in 87 acres of wetlands — the largest wetlands fill project in northern California in 50 years and pave over 6 miles of meadow in undeveloped Willits Valley.  And fill in streams.  And "relocate" all its fish, including coho salmon.  And bulldoze and clear cut acres of oak/pine/madrone woodlands.   And level hillsides.  
A sonic assault on people and wildlife: 1,600 piles will be driven up to 100ft. deep, from dawn to dusk…over 3 years of construction.  Each pile will be struck approximately 2,000 times at 187-220 db (decibels). (A jet take-off is about 140db.)
Out-of-control costs: Caltrans estimates this will cost $210-300 million of CA taxpayer dollars.  And that's without typical cost overruns or likely wetlands fill complications.
Protect wildlife, peace of mind, and Willits Valley (below).
Caltrans claims this massive, wildlife-depleting, polluting and pricey project is needed to reduce north-south Hwy 101 truck traffic through Willits. But the majority of Willits residents oppose the bypass, citing studies that show 70% of Willits traffic is local, not thru-state.  More effective, cheaper and more environmentally benign alternatives have been proposed — and ignored.  CalTrans won't budge because their long-term goal is to build a 4-lane highway through California — and award multi-million construction contracts all the way.  Big business as usual.  Local communities, be damned.  YOUR CA state tax dollars hard at work.
The more you learn, the more outrageous The Willits Bypass is.  And why 90% of Willits business owners oppose it, too.  
In short, CalTrans is acting as if it's 1950; as if we don't know, in 2013, the devastating long-term effects of destroying land, forest, meadows, streams, fish and wildlife populations.  And the immediate community-harming effects of massive noise, air, land, and water pollution.
Warbler's tree sit has made local news.  You can Google, "Willits Bypass."  Media links and more background info are here: http://treespiritproject.com/willits-bypass-warbler-2/
The issues here deserve state-wide and national attention.  The friction between old, environmentally unconscious thinking, and modern environmentally aware thinking is occurring across America.  We now understand that humans are part of a larger, intricate and delicate ecosystem that sustains us.  To destroy and pollute hundreds of acres of living land and contribute to global warming for a non-essential roadway is actually suicidal.
---
Email Jack with media inquiries.
---
Additional ways to help:
• Take 30 sec. to sign the petition challenging the sanity (and necessity) of The Willits Bypass: http://www.change.org/petitions/cancel-the-caltrans-willits-bypass-project
• More information:
The Environmental Protection Information Center.
Center for Biological Diversity PRESS RELEASE
• Learn more, share the facts: Willits Bypass FACTS PAGE