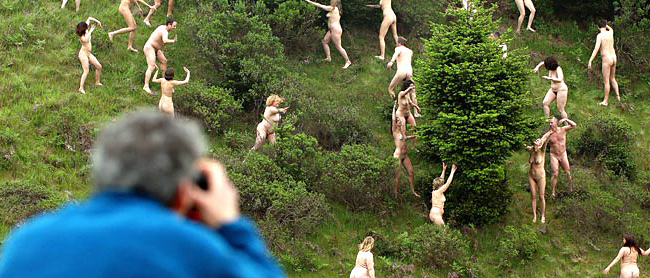 TreeSpirit keeps growing thanks to ordinary, extraordinary people just like you who enjoy and share the photographs, this website, and your personal experience of being in a TreeSpirit photo.

Thanks to 21st century communication like email, blogs, websites, and social media — plus good old-fashioned word-of-mouth — your knowledge of the critical role trees play in our lives and your feelings for trees can spread rapidly.  This is how we humans are going to make it through these times of ecological challenge we ourselves have created.
One of my favorite quotes is apropos:
Never doubt that a small group of thoughtful, committed citizens can change the world. Indeed, it is the only thing that ever has.  — Margaret Mead

If you're moved by TreeSpirit's imagery and mission to rekindle our love affair with trees and nature, you can participate in many ways:
• Be in a TreeSpirit photograph.  Join the email list to be notified of upcoming photo events.  (The list is never shared or sold, not ever).  Browse upcoming Events HERE.

• Purchase TreeSpirit imagery to share with your friends and family, which supports TreeSpirit's mission to rekindle our love affair with trees and nature.  See the limited edition Fine Art Prints, and Art Posters (printed on 100% recycled paper).
• Browse EVENTS page to find exciting TreeSpirit trips you can join far & wide.
• Read Testimonials to learn what it's like to boldly, vulnerably play among trees with like-minded, kind-hearted tree lovers.
• Commission a custom TreeSpirit photograph of yourself, your beloved, or your tree-loving group.  More information, here.
• Share this TreeSpirit website with a friend via email, Facebook, Twitter, etc.
• Make a donation using the yellow Donate button in the column at right.
For additional information or inquiries, email Jack.