Ever been tempted to compromise your values for a few dollars — or thousands of dollars?  I've been facing this temptation, and dilemma, and wonder if you can relate.  After weeks of research and phone calls and discussions with paper manufacturers and printers, I've had to make a decision: take (keep) the money — or sleep at night.
Making a big coffee table book of photographs with 100% recycled paper IS possible — but it ain't easy.  Of course everyone who has NOT done it is quick to offer advice.  But they haven't gone through the process of sourcing 100% PCW (post-consumer waste) recycled paper to self-publish a book.  And not just a book, but very specifically a book of photographs. And high resolution photographs you'd really like to print well.  In my case, of course, over 120 photographs of trees, made over 12 years, with over 1,000 fellow tree lovers playing among them.
All the TreeSpirit photographs were created to highlight the value and beauty and preciousness of trees. So killing trees to make the paper to print the photos on seems not just inappropriate or contradictory but, well, horrific.
So my research has led me on an unexpected and frustrating journey.  I've learned why there are so few art books printed on 100% PCW paper, especially books with high resolution photographs like mine.  The vast majority of photo books, including those filled with adoring photos of trees and forests and animals, and purportedly aggrandizing nature, are made on trees killed for the printing press.  Art about loving nature that destroys nature's forests.
Which brings to mind these chilling lines by Lebanese-American poet, author of the classic, "The Prophet," Kahlil Gibran:
Tree are poems Earth writes upon the sky.
We fell them down and turn them into paper
So we may record our emptiness.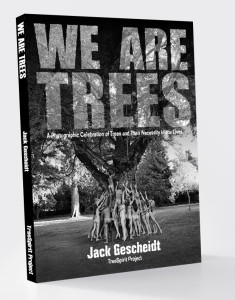 My book, "We Are Trees" is a photographic ode to trees, our dear, precious ecological allies.  They are so ancient they predate us humans. I cannot imagine publishing this book on dead trees.  (Read Gibran's words again.)  How could I sleep at night?
With color images, the increased dot-gain of more porous recycled paper increases contrast (blacks block up with ink), but could be said to add drama or punch.  But with Black & White images, shadow detail can be lost and punch can become mud.  100% recycled paper is not yet commonly used, even though it's much improved in recent years.  There are two companies that make a high-quality coated 100% PCW paper especially for printing photographs.
But 100% PCW recycled paper isn't commonly used, so it's not in printer's store rooms, warehouses, or supply chains.  And it's not in supply chains because it's not commonly used.  Get the chicken-and-the-egg picture?  So it costs a lot more.  And many printers can't get it in small quantities for just one book.  And many therefore don't have experience working with it.
This has little to do with recycled's printing quality, and everything to do with the economics of supply chains and their resistance to change.  Just ask Elon Musk if not having a charging infrastructure has been an impediment to selling electric cars.  Even if his Teslas are faster, much cleaner, and also quieter and far cheaper to maintain. (Yes, they're much pricier, but that's for the same reason 100% PCW paper is too: economies of scale. Sell five million electric cars and their price can drop dramatically.)
So "We Are Trees" may well cost DOUBLE per book to make.  And this price is passed on to readers.  Will they know why?  Will they care?  Will you?  At what point is the cheaper Chinese-made tool at Home Depot the one even red-blooded American union workers buy because it's half-price.  Welcome to the realities of economics and business and market forces.
One good friend, also a good businessman, advised me to put my recycled paper dream on hold and do what almost every other artist, photographer, even tree and nature lover has done: take the money, stay solvent, and set my ideals aside for now.  We must all compromise somewhere, sometime, about something.  Sure, that's sensible, reasonable, Real World, and even makes great sense in theory.
But again I ask, how can I kill trees to make a book about how precious and underappreciated trees are?  How can I continue my TreeSpirit mission to advocate as an environmentalist for how we must end Earth's deforestation; stop cutting trees down so freely and unnecessarily.  The answer is I can't stop.  And I won't.
Instead, I'll take a leap of faith and dream on. I'll actively create the dream — some say "vision" and tell people — I'm telling you now — that if people learn the full story, the why of my photo book's price tag, they may be willing to pay more for it today to create a better tomorrow.  A tomorrow in which we don't have to cut down forests of Earth poems for any reason, and especially not to record and share great love and tenderness for them.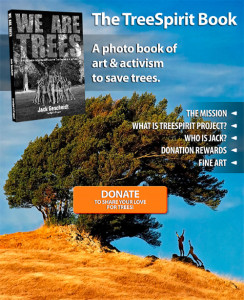 I hope you'll join me in this dream and make it real.  And prove we don't have to compromise our values and our integrity to make it in this world.
You can support this tree-free book project by pre-ordering a copy of "We Are Trees" for $20 off its cover price, here: http://www.TreeSpiritBook.com 
People who will not sustain trees will soon live in a world that will not sustain people.
            –  Bryce Nelson
Jack Gescheidt, Founder
The TreeSpirit Project
TreeSpiritBook.com