AUGUST 2-9, 2018. Contact Jack for Early Registration offer.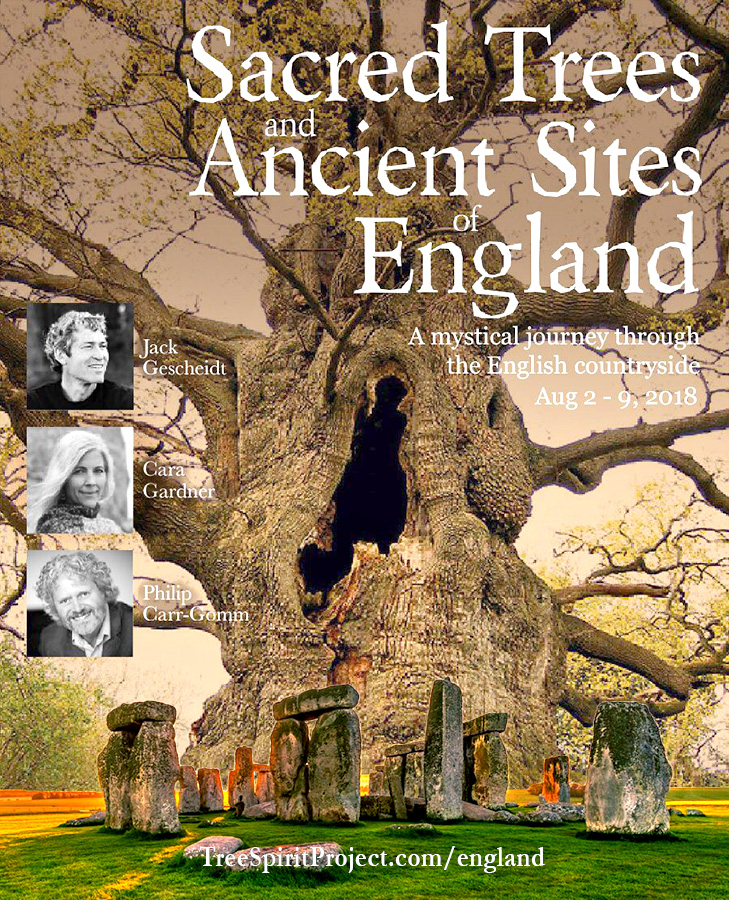 A ONE-OF-KIND TRIP FOR LOVERS OF TREES, NATURE, THE ENGLISH COUNTRYSIDE & ENGLAND'S ANCIENT MYSTERIES.
Journey across the English countryside—and through time.  Our group will dive deep into living history by spending time with sacred, historic and beloved trees hundreds of years old.  And a famous yew forest with trees literally thousands of years old.  In between, we'll visit Neolithic monoliths from the dawn of European civilization.
Our purpose is not just to tour, or only to play—although we will enjoy play, too—but to honor our sacred, heartfelt and mystical relationship with trees older than any living person's great, great, great, great grandparents.
You will have numerous photo opportunities with TreeSpirit Project's founder and photographer, Jack Gescheidt, to memorialize your adventures and arboreal communion.  (See TreeSpirit's gallery of fine art photographs.)  NOTE: Being in "TreeSpirit" fine art photographs is optional.

Between our visits with our ancient English tree friends we will visit far older, world-famous stone and henge (circle) sites—including Stonehenge and Avebury—that were created literally thousands of years ago. They remain imbued with powerful, Old World energies still accessible to this day…to those who know how.  Hence…
Our co-leader, Cara Gardner, is an Ireland-trained shaman.  Cara will offer gentle guidance to those in our group who would like to access the energies and wisdom still available in these magical, healing places. It's what draws people to them from around the world—whether they know it consciously or not!
You might communicate with ancestors and access the peace, stillness and wisdom found here, unlocking its source in your own heart.
To quote the website SacredSites.com:
Since ancient times, sacred sites have had a mysterious allure for billions of people around the world. Legends and contemporary reports tell of extraordinary experiences people have had while visiting these places. Different sacred sites have the power to heal the body, enlighten the mind and inspire the heart. What is the key to the mystery of the sacred sites and how are we to explain their power?
---
A SPECIAL TREAT: we are thrilled to announce that English author, psychologist and lecturer Philip Carr-Gomm—also a leader of England's Order of Bards, Ovates and Druids—will travel with us for two days of our seven days. This is a rare opportunity to spend intimate time with this extraordinary, charming gentlemen. Philip will lead us into the ancient yew forest of Kingley-Vale in Sussex, to properly introduce us to these oldest, most sacred and legendary of England's trees.
To quote Philip:

Something magical happens when the worlds of mysticism and psychology are brought together. Every discipline in psychology helps to reveal the extraordinary nature of the human being, but add the insights of the Perennial Wisdom Tradition – the ancient knowledge and esoteric teachings passed down through the ages – and we enter awe-inspiring territory that has the power to transform us.
Reap the sensory, emotional and spiritual benefits of slowing down and diving deep among the ancient spirits of England's trees, land, and stone in their many disparate and mesmerizing forms.  An antidote to today's modern, frenetic, technological speeds, too often leading us nowhere fast.  We will spend more time with each blessed, living tree than the typical tour, or even tree tour, not rush by them, off to the next, merely ticking off having been there.
Instead, our small, intimate group will honor the sacredness in slowing down, to more fully and profoundly enjoy our emotional and spiritual connection with these dear old friends.  We live in a magnificent, mysterious world and, in communing with these unique aged trees, connect with the mystery and beauty that pulses within our own hearts.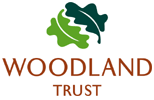 And mind you, England is a country filled with jaw-dropping old trees, and tree lovers.  They even have an annual "Tree of the Year" contest sponsored by their Woodland Trust, the largest woodland conservation charity in the UK that ensures public access to its over 22,500 hectares of woods, with over 1/2-million supporters and 30 millions trees planted since 1972.  We will be visiting some of these winners (bearing in mind every tree is a beloved "winner" to us).
---
OUR ITINERARY, AN OVERVIEW:

• Our group meets and our journey begins at a charming, rustic inn outside London. Join us here, relax in front of a stone fireplace, and we'll take care of everything for you for the next week, including all transportation, lodging, meals, tickets & permits for all our adventures ahead.
• Each day we travel to a different countryside location/s, mixing sacred trees, an ancient forest over 1,000 years old, and ancient, prehistoric sites.  Our detailed itinerary is confidential, but highlights include the mysterious, sacred thousand-year-old yew trees of Kingley-Vale forest, and Stonehenge, even more thousands of years older.  (More of our itinerary will be revealed in conversations with interested participants.)
• Each night we stay in a different charming, historic English bed & breakfast.  Drink in the local atmosphere as each  night we share our day's experiences together.  These evening circles are a highlight of the trip, unique to our group with its unique intention of connecting not so much with spirits imbibed, but with the spirits of the trees, the land and of our ancestors.
• In this way,  your experiences will deepen every day, as we all build our collective trust, creating safety and precious depth of connection that is possible when people intentionally, consciously, slow down, together.  Make lifelong friendships in our group of fellow nature-loving travelers.  This unique, heartfelt trip is designed to attract unique, heartfelt people.
• Jack Gescheidt will offer "TreeSpirit" photo opportunities at several trees.  All are optional.  You may know in advance you wish to participate.  You may expect not to participate in this way, but like a "regular" (aka, clothed) portrait with our English tree friends.  And you are welcome to change your mind at any time.  Read Testimonials of what some of the powerful experiences people have had while making TreeSpirit photos.  The experience can be unexpectedly liberating, joyous, even healing as we accept our bodies as beautiful just as they are.  With or without clothing, expressing affection and rapport with trees, ancient emotional and spiritual allies in life, is always rewarding.
• Care Gardner (see bio below) will offer guidance, counseling and invite us into mystical connection with spirit in our surroundings at numerous times, at our locations and at our evening gatherings.  All this will be offered and tailored as the group, and you, desire  All are welcomed to participate as feels right in each moment.
• Philip Carr-Gomm (bio below) will join us one evening, tour with us the next day, and be our guide in the ancient yew forest of Kingley-Vale with fellow Druids.  This is a unique opportunity to spend intimate time with this world-famous author, lecturer and Druid leader.
---
TRIP LEADERS: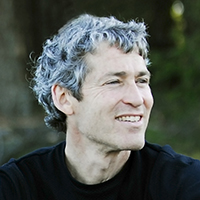 • Jack Gescheidt - Co-leader Jack will offer numerous opportunities to participate in his unique fine art "TreeSpirit" photos during our group's "dances with trees" where possible.  (The British are not as terrified of the bare body as Americans.) He is an environmental art photographer, environmental activist, public speaker, and founder of The TreeSpirit Project. READ MORE ABOUT JACK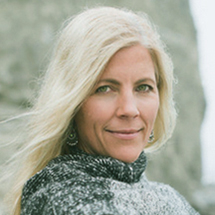 • Cara Gardner – Participate in healing ceremonies with co-leader Cara, a Shamanic Practitioner in the Celtic tradition, Reiki Master, trained counselor and clairvoyant with a degree in Cultural Anthropology. (Also a professional photographer.)  Her wisdom and gentle presence puts people at ease, feeling at home in their own skin. Founder, Heartland Healing Arts: HeartlandHealingArts.com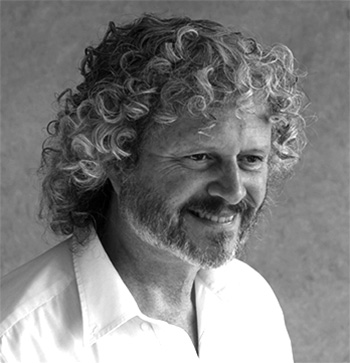 • Philip Carr-Gomm – We are thrilled to have Philip as our special Guest Host joining us for 2 days.  Author, psychologist, world-renowned Druid scholar, and leader of The Order of Bards, Ovates and Druids since 1988.  A rare opportunity to spend intimate time with this charming, erudite historian and teacher.
www.PhilipCarr-Gomm.com
"Though my spiritual practice is rooted in Druidry, I believe we have entered an era in which we can move beyond labels and follow the Nameless Way – being inspired by the wisdom in all spiritual paths and teachings…particularly…ways in which we can preserve and protect the natural world for future generations." – Philip Carr-Gomm
---
AUGUST 2-9, 2018. Contact Jack for Early Registration offer.
PRICING: $3450 with double occupancy (add $450 for single occupancy)
EARLY REGISTRATION: $3250 by Feb. 23, 2018 ($200 savings, $400/couple)
DEPOSITS: (guarantee your spot and trip fee, otherwise subject to change w/o notice): ⅓ trip fee: $1150 or $1075 Early Registration. Not refundable, but deferrable to future TreeSpirit Journeys
INCLUDES: All Bed & Breakfasts lodging, all meals (exluding alchohol), transportation between Bed & Breakfasts, all site tickets and permits
• Does NOT include: airfare, travel insurance, airport transfers, alcohol
• Fees, availability, may change until your reservation is confirmed with a deposit.
• Payments accepted by check and credit/debit card w. secure PayPal invoicing.
CONTACT JACK to RESERVE YOUR PLACE on this one-of-a-kind adventure!

---
TESTIMONIALS – People write about their experiences making a TreeSpirit photograph:
Hello Jack,
The picture looks MAGICAL.
Thank you for the positively delightful experience!
It was invigorating to be out in nature with so many wonderful individuals coming together on such a beautiful day.
I was honored to be a part of it.
- Mary M.
Saturday morning there was no question I was going to be in your photograph.  It was a measure of how much more I have grown into my own body and the natural world I am surrounded by—it was completely natural and without hesitation that I found myself in the wilderness lying with so many others along a rocky trail.
As for the general motivation of my interest in the Tree Spirit Project – I've dreamt of trees for years. Truth be told I had an interesting experience with a tree as a child…but aside from that I grew up spending summers on an orchard in rural Virginia, climbing and losing myself in the woods for long hours. My dreams of trees—specifically people and trees melding—are a more recent event, but they've compelled me to seek out your photographs as tangible images of human and tree (or landscape) existing seamlessly together.
Thank you. I look forward to the next time I am able to participate!
- Amy K.
---
VIDEO: Watch Dame Judi Dench react to meeting a 1,500-year-old yew tree that WE WILL VISIT:
---