People who will not sustain trees will soon live in a world that will not sustain people. -  Bryce Nelson




Trees purify the air; they also purify the mind……if you want to save your world, you must save the trees. -  The Trees of Endor
TREES DO SO MUCH FOR US.  LET'S GIVE THEM THEIR DUE.
Trees are an integral part of life on Earth, for as long as we humans have walked upon it, providing food, clothing, shelter, medicines, air purification, oxygen production, soil stabilization, soil filtration, the list goes on and on (see more below*).
Yet, paradoxically, it's easy to overlook trees because of their seeming ubiquity.
How extensive can deforestation be if I don't see it in my own neighborhood, my own back yard?  Big issues like global warming can seem abstract if we don't have direct evidence of them in our lives.  This disconnect is heightened because so many of us are so busy in our lives, and spend so much time indoors.
The fact is we powerful humans have cut down about 50% of the Earth's original forest cover in our time on the planet.
READ MORE in The Independent. 


And the United States has cut down over 50% of our original forests in the last 400 years.  We've destroyed much more of other tree (not to mention animal) species: e.g., over 95% of old-growth (200+ year old) coast redwoods, sequoia sempervirens (sempervirens is Latin for "evergreen" or "everlasting").
Until only recently in human history, we didn't imagine we could eliminate an entire species — or kill all the world's trees.  Or affect the Earth's climate. Now we know different.  As our clever, industrious and industrialized and ever-expanding population nears 7 billion, our tree-felling (and environmental) habits have become suicidal.  We're destroying a species (trees) and habitat (forests) that sustain and enrich our lives in numerous ways (see below).
But there's good news, too: this trend is still reversible, if we again value trees and all the interconnected elements of our one and only ecosystem.  From awareness comes action.  Put another way: What we love we will protect.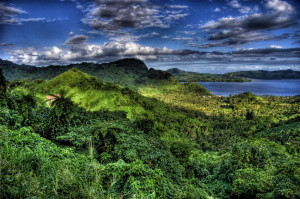 READ HOW MUCH RAINFORESTS DO FOR YOU: http://www.nature.org/ourinitiatives/urgentissues/rainforests/rainforests-facts
Modern science has taken us full circle, confirming ancient human cultures' intuitive understanding of trees' role in the health of the world's ecosystem.  We can end suicidal tree and forest destruction for short-term profits, both in our local communities, and in the Earth's priceless rainforests.  Bumpersticker wisdom applies, "Think globally, act locally."  And, "When the people lead, the leaders will follow."
TreeSpirit's emphasis is intentionally more emotional than scientific, but because science has great influence and power, let's touch upon the vast list of  trees' numerous, silent, ceaseless gifts to us. (A more complete compendium could easily fill  a separate, giant website.)
---
AN ODE TO TREES.  Words by Herman Hesse.  By @RainforestTV:
---
WHAT TREES DO FOR YOU (a wildly abbreviated list):
• produce oxygen and filter pollutants from the air we breathe – These kinds of statistics inevitably vary widely, but 1 mature tree, on average, produces 260 pounds of oxygen per year.  Two trees can provide enough oxygen for a family of four."  (Source: McAliney, Mike, Trust for Public Land, Sacramento, CA, December, 1993.)
• More than 20% of the world's oxygen is produced by the Amazon rainforest.  (Source: Rainforest Alliance.org.) READ MANY MORE RAINFOREST BENEFITS
• 1 acre of forest absorbs 6 tons of carbon dioxide and emits 4 tons of oxygen, the annual need of 18 people.  (Source: U.S. Department of Agriculture)
• reduce urban crime (!), create community, calm people - Source: a 1999 University of Illinois at Urbana-Champaign study found greenery (trees, shrubs, gardens) had a calming effect on people, reducing the crime rate 52%. and attracting people to spend more time outdoors to strengthen communities.  Read more, here: http://lhhl.illinois.edu/media/thepoweroftrees.htm
• soil filtration (cleaning!) - Phytoremediation is the technical term for the absorption of toxic chemicals and pollutants from contaminated soil.  Trees not only can store pollutants but can even convert some into less harmful substances, and filter sewage, farm chemicals, animal wastes, and roadside toxins like metals, pesticides, solvents, crude oil and its derivitives, and even explosives.
• reduce flooding and soil erosion via soil stabilization – Storm water that would otherwise run off impervious driveways, parking lots and roads, is absorbed by the forest floor, which then allows it to trickle down into groundwater or be taken up by vegetation.
• provide precious animal habitat – 70% of Earth's land-based animals and plants live in forests.
• provide medicines in vast quantities: 25% of Western pharmaceuticals are derived from rainforest ingredients, but less that 1% of tropical trees and plants have been tested by scientists.  Untold numbers and types of medicines have yet to be discovered in forests and jungles that are rapidly being cut down.  Are we wise enough to act immediately to preserve them?
• food — it grows on trees! – Almonds, avocados, bananas, cherries, grapefruits, lemons, oranges, peaches, pears pineapples, plums, mangos, pineapples, and on and on.  And trees' productivity matches this diversity: a single apple tree can yield up to 600 apples annually: local, organic, inexpensive, healthy sustenance.
• carbon sequestration – one example: America's National Forests absorb 10-15% of the nation's carbon emissions  (Source: NationalGeographic.com)
• inspire, nurture, and comfort – perhaps the most valuable, under-recognized feat of all: trees silently, unfailingly, nurture and elevate the human spirit; calming us, inspiring us, making us feel better just by the simple act of our being in their presence.
• READ how being in nature promotes well-being (and being nature-deprived promotes depression): http://www.takingcharge.csh.umn.edu/enhance-your-wellbeing/environment/nature-and-us/how-does-nature-impact-our-wellbeing
---

• READ AMAZING 1999 STUDY, "The Power of Trees," from the University of Illinois at Urbana-Champaign (CLICK HERE) which showed, among other things:
- children played in outdoor spaces around their homes that had trees twice as often as in treeless spaces;
- children playing among trees had more frequent contact with adults, in part because adults spent more time in green spaces than treeless areas;
- children in green spaces engaged in more "creative play" activities — e.g., pretending, playing with dolls, devising new jump-rope routines and hand-clapping songs — compared with kids in concrete-only play areas.
---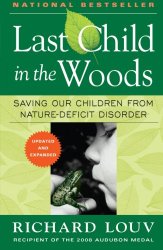 • AUTHOR RICHARD LOUV coined the term, "nature deficit disorder" in his 2005 book, "Last Child in the Woods," to describe what many children, especially in "developed" countries, suffer from when play and exploration in forests and other nature settings is drastically reduced to little or nil.  The remedy is simple: let kids off-leash and back into nature.  LEARN MORE.
In doing so, we foster healthier children and communities, and nurture lifelong bonds between our young people and the natural world.  These bonds are what will protect and preserve our woods, forests, animal habitat, and wild places we as a society need to be healthy.
READ MORE ABOUT "Last Child in the Woods"
---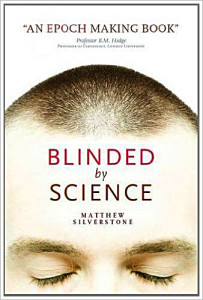 • Read the science behind tree hugging; why it feels good, why it's good for you. For those who want a little Western analysis and science to back up their intuition and/or personal experiences:  CLICK HERE FOR STORY about AUTHOR MATTHEW SILVERSTONE's 2011 book, "Blinded by Science."
Amazon review excerpt:
Silverstone tells us how trees, plants, water, the sun and the moon can all play a part in how we feel on a daily basis.  Western science has chosen to ignore thousands of scientific studies that show there is more to our body's behaviour than it alone can explain.
READ MORE ABOUT "Blinded by Science"
---
We humans have become so powerful, and are so clever, we can exterminate entire species of animals and plants, perhaps even most of the world's trees.  The question remains whether we can use our inner wisdom, and our hearts, in concert with all our information, to preserve our life-sustaining environment.