Dozens of courageous forest fans showed their devotion to Strawberry Rock and surrounding forest…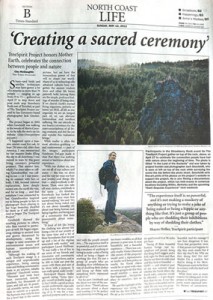 A community effort is underway to preserve and restore as much of this second-growth redwood forest as possible — all its old-growth has long since been logged.  Its current land steward, Green Diamond timber company, wants to make additional clearcuts.
Daring nature lovers gathered Saturday, April 27, 2013, to make these images to draw attention to the issues and highlight the importance of preserving and restoring healthy forests, critical in this era of global warming.

• READ May 12, 2013 Eureka Times-Standard newspaper story by Clay McGlaughlin.
---
NEW!
"In The Land of The Ancients"
18″x 24″ POSTER
• Heavy 100 lb. cover stock
• 100% recycled, 50% PCW "Reincarnation" paper by NewLeafPaper.com
• A fraction of the cost of a (highest resolution) limited edition fine art print

$25 signed by TreeSpirit founder Jack Gescheidt

---
WATCH VIDEO TEASER:
---
"In The Land of The Ancients"
CLICK IMAGES BELOW TO ENLARGE
Purchase Fine Art Print:
• In The Land of The Ancients 1
• In The Land of The Ancients 2
• In The Land of The Ancients 3
• In The Land of The Ancients 4
• Elemental 
---
• Background article on the forest issues at Strawberry Rock by Clay McGlaughlin of The Eureka, CA Times-Standard (4.31.13): http://www.times-standard.com/ci_22910820/future-strawberry-rock
• LEARN MORE about this forest.
• Learn about industrial forestry damage and issues from the Environmental Information Protection Center (keeping Northern California wild since 1977).
• Don't know Jack?  TreeSpirit'sfounder/photographer: LEARN MORE
• Frequently Asked Questions aboutThe TreeSpirit Project.
---
What happens if we the people DON'T speak up for forests…